In The Early Morning Rain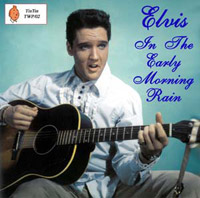 Content
Let Me (Overdubbed Version )
Heartbreak Hotel (Live At The Maple Leaf Garden, Toronto April 2, 1957)
I Was The One (Live At The Empire Stadium, Vancouver August 31, 1957)
That's When Your Heartaches Begin (L At The Empire Stadium, Vancouver August 31, 1957)
I Gotta Know (Alternate Version)
Today, Tomorrow And Forever (Instrumental)
Fort Lauderdale Chamber Of Commerce (Instrumental Version # 1)
Fort Lauderdale Chamber Of Commerce (Instrumental Version # 2)
Charro (Alternate Undubbed Take)
Don't Cry Daddy (Harmony Vocal Overdub)
From A Jack To A King (Alternate Version)
Mama Liked The Roses (Harmony Vocal Overdub)
Early Morning Rain (Unbubbed)
Miracle Of The Rosary (Alternate Take)
He Touched Me (Alternate Take)
Burning Love (Alternate take)
Reviews
Released by the TinTin label is their second release. Or should we say their second re-release?

Design

Although the label is surrounded by controversy (more on that later) we can only compliment them on the choice of the cover picture. Although the picture has been doing the round on the world wide web since 2005, the picture is not very familiar to many fans. The remaining of the "design" has nothing to do with design what so ever.

Content

The CD is compiled from "stolen" audio. This is not unfamiliar in the bootleggers scene, but the so called producers of this bootleg have no shame what so ever. They downloaded most material from Keith Flynn's Elvis site. This material has been editited, toyed with and / or been remastered by the webmaster who shares it with fans for a hobby.

This is how the webmaster put it on the For Elvis CD Collector's website forum when the news of this CD broke: "I just feel sorry for the fans who will "Buy" this type of release, as I know for a fact that they are taken from poor sounding MP3 samples, that I deliberately encoded this way, as they are only for informational (listening) purposes on my site. With "I Gotta Know" I Made this myself! There is NO alternate take of this song (Take 1 is a False Start, and Take 2 is the Master), and I'm the only one who has the original "Wave" file of this song."

The producers did this with their first release, and will probably do so again when a certain website is updated. This leaves us with a smart advice, just visit Keith Flynn's Elvis Presley Pages and get this CD for free :-)

Conclusion

Only for die hard collectors (who don't know how to download material and burn it to CD themselves).