Elvis Gold Records Volumes 1 – 4 CD / DVD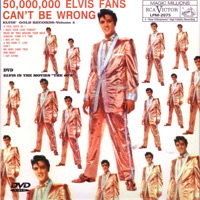 Content
Elvis Presley Golden Records Volume 1

CD:

1 hound dog
2 loving you
3 all shock up
4 heartbreak hotel
5 jailhouse rock
6 love me
7 too much
8 don't be cruel
9 that's when your heartaches begin
10 (let me be your) teddy bear
11 love me tender
12 treat me nice
13 anyway you want me (that's how i will be)
14 i want you, i need you, i love you
15 just because
16 good rocking tonight
17 trying to get you
18 money honey
19 blue suede shoes
20 i was the one

DVD (53 Minutes):

From "Love Me Tender":
21 love me tender
22 we're gonna move
23 let me
24 poor boy

From "Loving You":
25 got a lot of living to do
26 let's have a party
27 let's have a party
28 lonesome cowboy
29 hot dog
30 mean woman blues
31 teddy bear
32 loving you
33 got a lot of living to do

From "Jailhouse Rock":
34 jailhouse rock
35 young and beautiful
36 i want to be free
37 don't leave me now
38 treat me nice
39 baby, i don't care

From "King Creole":
40 crawfish
41 lover doll
42 trouble
43 dixieland rock
44 young dreams
45 new orleans
46 king people
47 as long as i have you

Elvis Presley Golden Records Volume 2

CD:

1 i need your love tonight
2 don't
3 wear my ring around your neck
4 my wish came true
5 i got stung
6 one night
7 a big hunk o' love
8 i beg of you
9 (now and then there's) a fool such as i
10 doncha think it's time
11 shake, rattle and roll (take 8)
12 my baby left me
13 just because
14 mystery train
15 i got a woman
16 i'm counting on you
17 blue suede shoes
18 so glad you're mine
19 i'm gonna sit right down and cry (over you)
20 tutti frutti

DVD (47 Minutes):

From "G.I. Blues":
21 g.i. blues
22 doin' the best i can
23 Frankfurt special
24 shoppin' around
25 tonight all right for love
26 wooden heart
27 pocketful of rainbows
28 big boots
29 didja' ever

From "Follow That Dream:
30 i'm not the marrying kind
31 sound advice
32 follow the dream
33 angel

From "Girls! Girls! Girls!":
34 girls! girls! girls!
35 i don't wanna be tied
36 we'll be together
37 earth boy
38 return to sender
39 because of love
40 thanks to the rolling sea
41 song of the shrimp
42 the walls have ears
43 we're coming is loaded
44 girls! girls! girls!

Elvis Presley Golden Records Volume 3

CD :

1 it's now or never
2 stuck on you
3 fame and fortune
4 i gotta know
5 surrender
6 i feel so bad
7 are you lonesome tonight?
8 (marie's the name) his latest flame
9 little sister
10 good luck charm
11 anything that's part of you
12 she's not you
13 suspicion
14 starting today
15 finders keepers, losers weepers
16 i'm yours
17 put the blame on me
18 for the million and the last time
19 night rider
20 never forget
21 gonna get black home somehow
22 fountain of love

DVD (56 Minutes):

From "Blue Hawaii":
23 almost true
24 aloha oe
25 no more
26 can't help falling in love
27 rock-a-hula baby
28 moonlight swim
29 ku-u-i-po
30 slicin' sand
31 hawaiian sunset
32 beach boy blues
33 hawaiian wedding song

From "Wild In The Country":
34 i slipped, i stumbled, i feel
35 in my way

From "Fun In Acapulco":
36 vino, dinero y amor
37 i thing
38 mexico
39 el tora
40 marguerita
41 the bullfighter was a lady
42 (there's) no room in rumba in a sports car
43 bossa nova, baby
44 you can't say no in acapulco
45 guadalajara

From "Roustabout":
46 poison ivy league
47 it's a wonderful world
48 it's carnival time
49 one track heart
50 it's carnival time
51 hard knocks
52 little egypt
53 big love, big heartache
54 there's a brand new day on the horizon

Elvis Presley Golden Records Volume 4

CD:

1 love letters
2 witchcraft
3 it hurts me
4 what'd i say
5 please don't drag that string around
6 indescribably blue
7 you're the devil in disguise
8 lonely man
9 a mess of blues
10 ask me
11 ain't that loving you baby
12 just tell her jim said hello
13 i'll remember you (original unedited master)
14 too much monkey business
15 you don't know me
16 come what may (take 7)
17 blue river
18 fools fall in love
19 tomorrow is a long time
20 us male
21 mine
22 memphis tennessee
23 suppose

DVD (63 Minutes)

From "Harum Scarum":
1 my desert serenade
2 go east young man
3 mirage
4 kismet
5 shake the tambourine
6 hey little girl
7 so close, yet so far (from paradise)
8 harem holiday

From "Easy Come, Easy Go":
9 easy come, easy go
10 the love machine
11 yoga is a yoga does
12 sing you children
13 i'll take love

From "Paradise Hawaiian Style":
14 queenie wahine's papaya
15 scratch my back
16 drums of island
17 datin'
18 house of sand
19 stop where you are
20 this is my heaven
21 drums of the islands
22 stop, look and listen

From "Spinout":
23 adam and evil
24 all that i am
25 never say yes
26 am i right
27 beach shack
28 spinout
29 smorgasbord
30 i'll be back
Reviews
Released in Russia is the Elvis' Gold Records" series volumes 1 to 4. As a bonus each CD comes with DVD featuring clips from Elvis movies. Are these a worthy upgrade of the BMG editions we already have?

Design

The design appears to be very good. Four compilations, presented in old fashioned mini double LP sleeves (3 panels) with a small – 2 pages – booklet. The booklets contain either pictures or lyrics and are not too interesting. The front of the booklets should have been the same as the front of the album though.

The minor of the design is mainly that the details were messed up. Not all typography is done the same so it is pretty inconsequent. Song information is partly with authors and partly without, the chaptering is messed up and the bad choice of colors makes it hard to read everything.

Content

The idea of a CD/ DVD combination is a nice one these days. A lot of record buyers want more than just a silver disk, they can get that from the internet or friends. A release with bonus material, footage and a great looking package for a good price will find his way to fans and other buyers.

The ideas of these bootleg producers are better developed than their production skills. They made smaller and bigger errors on all possible facets of this production.

They compiled nice compilations, all CDs are over 20 tracks, but messed up the track listing on the cover, the sequence on the CD follows the original RCA / BMG release for the original tracks, but producers decided to add a different track listing to the cover. From BMG we bought five volumes in this series, so we still miss one edition to complete the series as we have them.

But their errors can be heard too. "Shake Rattle And Roll" begins near the end of the song only lasts 10 seconds, "I Want You, I Need You, I Love You" isn't complete either, there we miss the end. These two titles are one track on the CD, that isn't right either. Besides some bad cutting, the remastering isn't done very well too; you can hear the different sources they used for the compilation.

As for the DVDs, with a matching animated menu, but on the first DVD the audio and movie footage are not running synchronically. Since we don't want to watch a bad lip-syncing Elvis we turned it off.

Getting back to the content, looking at these clips Elvis appeared to have an uncontrollable urge to start singing at unexpected moments; for strangers, friends, lovers, children, and old folk and even animals. So if BMG were ever to do a project like this, be very selective which clips you want to show. Too many clips of Elvis singing his songs can only be enjoyed as part of the movie they belong to (and even there we have our doubts about a lot of them).

And finally for the discs themselves; we hear a lot of noise and rambling from our CD and DVD players, so something must be wrong with the discs.

Conclusion

So what do we have a here? A nice idea, a bad production … This really isn't "from Russia with love". Hopefully BMG can one work out a strategy to release these kind CD/ DVD compilations (perhaps on the Follow That Dream label?).