Happy Days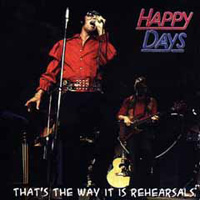 Content
Las Vegas Showroom Rehearsals August 7, 1970:
Words
You Don't Have To Say You Love Me
The Next Step Is Love
You've Lost That Loving Feeling
Twenty Days And Twenty Nights
Polk Salad Annie / I'll Take You Home Again Kathleen
Mary In The Morning
Oh Happy Day
I've Lost You
Dialogue

Los Angeles Rehearsals July 14, 1970:
Sweet Caroline
Bridge Over Troubled Water
You Don't Have To Say You Love Me
Eating Hamburgers/ Talking

Bonus tracks:
Reading Telegrams Before Opening Show (August 10, 1970)
Talking And Singing Backstage Before Opening Show (August 10, 1970)
Reviews
ElvisNews.com:

After hours and hours of "On Tour" and "That's The Way It Is" footage surfaced we knew we could expect a sh*tload of import releases on DVD and CD. We were right on the DVDs, not the CDs. Until now only the CD "Happy Days" with material from "That's The Way It Is" saw the light of day. Are we happy?

Design

We are happy with the design. Elvis at his prime, rehearsing for the classic "That's The Way It Is" is - almost - always a good choice. The omission of liner notes is a big minor, but the track listing is complete and the additional information does contain all the info we need.

Content

To be honest, we're not happy. As with Tunzi's latest "TTWII/On Tour" book release we are less happy with this release than we would have been before the out-takes surfaced and spread like wildfire in the fan world. Knowing the footage is out there we want more than just the audio track. Especially because the material presented on this release is not the best of the best. For three reasons.

For starters, the audio quality of part of this material is slightly better than an audience recording without the audience, so that does not add to a great listening experience. You can hear Elvis perform, but you can't really play this potentially great material at full volume. During the CD the quality improves, so does our listening pleasure.

Secondly, they also left the (almost) silent and talking (sometimes rambling) parts on the tape, this makes the breaks between the songs too long.

And finally the performances by our man; as we know from the footage Elvis did not deliver full flash performances during the – filmed – rehearsals. He also jokes a lot, experiments with arrangements and directs his musicians and backing groups. In other words, he simply does not deliver complete performances. You have to be a fan that wants to learn more about the man and his work if you want to enjoy this release.

Conclusion

This material, in this quality is nice for completists. Listening to these quality performances in this quality isn't all bad if you have something else to take away your attention. In other words, we want to have the video footage too (especially knowing it is available).

We know we sound a bit spoilt, five years ago we probably would have jumped for joy with a release like this, but now we know we have only part of what's available, we simply want more.

Hopefully we will get more and in better quality either from the bootleggers or Turner Entertainment / EPE / BMG. And not just the audio track of a DVD(-R) from eBay.