Not Too Sweet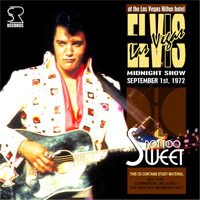 Content
Opening - See See Rider - Johnny B. Goode - Until It's Time for You to Go - You Don't Have to Say You Love Me - You've Lost That Lovin' Feelin' - Polk Salad Annie - Introducing himself - What Now My Love - Fever - Guadalajara (one-liner) - Love Me - Blue Suede Shoes - Heartbreak Hotel - Love Me Tender - Hound Dog - I'll Remember You - Walk That Lonesome Road (The Stamps) - Suspicious Minds - Introductions - My Way - A Big Hunk o'Love - You Gave Me a Mountain - Mystery Train/ Tiger Man - Can't Help Falling in Love.
Reviews
Released on the SR Records label is the CD "Not To Sweet". Is it (not too) sweet to our ears 33 years later?

Design

Like its predecessor "Trying To Get To Memphis" this CD comes in a nice looking package. A 12 page booklet with interesting liner notes, summarizing Elvis' tour against a background of everything that happened in 1972. The pictures are from the period of the concert, so matching this release. The color scheme is maintained throughout the booklet, but the fonts are a bit small and printed on a dark background making reading a bit hard.

The first 100 copies of this CD come with a special collectors card.

Content

This CD contains an unreleased performance of Elvis September 1, 1972 midnight show. To summarize the concert, it was not too sweet, it was raw. Elvis was in a good mood, even doing a one-liner of "Guadalajara" and he delivered all the songs with enthusiasm and power, a real pleasure to listen to.

The rockers rocked, especially "Polk Salad Annie", "A Big Hunk 'O Love" and our favorite "Mystery Train" in a medley with "Tiger Man". Hearing him perform the latter makes you believe he was the "King Of The Jungle". The same goes for James B who rocked "Johnny B".

The ballads are what they are supposed to be, sweet and tender. It must have been something to hear Elvis sing a balad live on stage listening to the "aahh's" from the ladies on this tape. A nice change is the performance of "Walk That Lonesome Road" by JD Sumner and the Stamps, not singing their usual signature song.

Unfortunately the CD contains an audience recording, restored, but still not the kind of recording a great show like this deserves.
Conclusion

The concert is great, the package is great, the audio quality is not too sweet (unfortunately). Typically a CD that would have made us very happy a few years back, when we were less spoiled.