Kansas City Blues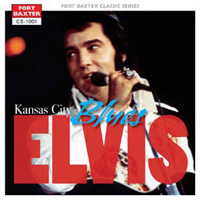 Content
See See Rider / When My Blue Moon Turns To Gold Again - Blue Christmas / I Got A Woman - Amen / Love Me / Trying To Get To You / All Shook Up / Love Me Tender / Hound Dog / Fever / Polk Salad Annie / Why Me Lord? / Suspicious Minds / Introduction of the band / I Can't Stop Loving You / Help Me / Bridge Over Troubled Water / Let Me Be There (with reprise). Tracks from June 29, 1974, Municipal Auditorium, Kansas City, Mo.

Funny How Time Slips Away (with reprise) / Big Boss Man / Steamroller Blues / Can't Help Falling In Love - Closing Vamp. Tracks from June 28, 1974, evening show Milwaukee, WI.
Reviews
ElvisNews.com:

We finally tracked down a copy of this first escape in the Fort Baxter re-issue series "Fort Baxter Classic Series". Since it was a re-release we skipped it at first, but decided to give it a spin.

Design

Most Fort Baxter CDs already had an above average design, but this has to be their best designed release yet. Enjoyable and interesting liner notes, obviously written by a knowledgeable fan (knowing where to find that text on the For Elvis CD Collectors website) who put this concert in an "historical" perspective. The photos are well chosen and from the actual date with some stunning pictures among them. Nothing but compliments here.

Content

As for the content of this release we are a bit in doubt. This CD is a re-issue of the 1995 bootleg Fort Baxter's "A Profile - The King On Stage volume 1" with some updated additional tracks to complete the concert experience. These additional tracks, and the omission of four rehearsals at MGM's Stage 1 in Culver City from July 15, 1970, are the only changes content wise.
The additional tracks are now from one day earlier (June 28, 1974), and not from a few months later (October 6, 1974) thereby painting a more coherent picture of Elvis at that moment.

As said, we're a bit in doubt because we already have this concert in our collection. Comparing this edition to the original release we do notice an improvement of the sound which is always good, but that is it.

What the show is concerned, our man is enjoying himself and the audience. He does a few one-liners, including "When My Blue Moon Turns To Gold Again", but unfortunately it is only a one-liner. He continues to joke with "Blue Christmas" in July. "Bridge Over Troubled Water" is a showstopper of course and all other songs get the treatments they deserve and Elvis still plays around with his voice on a standard like "I Got A Woman" although you can hear the "quickie treatment" we know from later years slip in a little. Overall, a very enjoyable show.

Conclusion

Overall this release stands out from the long line of crappy (audience) releases we have seen the last few months, both content (an enjoyable concert) and design wise. But as fans ourselves our conclusion can be both negative and positive.

The negative: bottom line this release remains a re-release so fans buy the same material again, or as Elvis puts it after his version of "Fever": "You are a good audience, to pay money to put up with that kind of stuff". We don't like it when BMG re-releases the same material over and over again with only a few improvements, so why should we accept this from import releases.

The positive: this CD is good news for the fans that missed out on the original "A Profile – The King On Stage" box sets which have become real collector items and will cost you a pretty penny if you want to lay your hands on a copy.

Regarding which group you belong to, make up your own mind on this release.