Once Upon A Time At The Hilton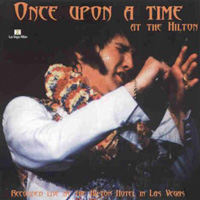 Content
Also Sprach Zarathustra
See See Rider
I Got A Woman/Amen
TipToe Through The Tulips
Blue Christmas
That's All Right
Are You Lonesome Tonight?
Jingle Bells
Love Me
You Gave Me A Mountain
Jailhouse Rock
O'Sole Mio/It's Now Or Never
And I Love You So
Blue Suede Shoes
Fever
Polk Salad Annie
Band Introductions
Early Morning Rain
What'd I Say
Johhny B. Goode
Love Letters
Hail, Hail Rock'n'Roll
Help Me Make It Through The Night
Danny Boy/Walk With Me (S. Nielsen)
Heavenly Father (K. Westmoreland)
Can't Help Falling In Love
Reviews
One of those CDs that suddenly popped up is "Once Upon A Time At The Hilton. Are we glad it did?


Design

A dark design with just Elvis and the title are pretty much all the design there is. On the back of the booklet some pictures of Elvis and memorabilia. Inside the booklet just white paper. On the back a better looking picture of our man, but a track listing that's not easy to read (for the older fan).

Content

This release contains a previously unreleased recording of Elvis December 6, 1976 performance at the Las Vegas Hilton. But that is about all the good we can say about this release. This is another "let's stick a microphone in the air" recording. As for Elvis, well we don't know what he is doing, but singing is not his main way of entertaining his audience. He is having fun on stage, the audience is having fun in the showroom, and we ... are we listening to a cabaret? Would we have attended this concert we'd asked our money back. As for the performances by our man, well he interacts, has fun but too much fun, so we get no real decent performance.

Conclusion

Get this only if you want to complete your concert collection, but even then, you probably won't play it more that the 10 minutes you'll listen to this one.