El Goes El Paso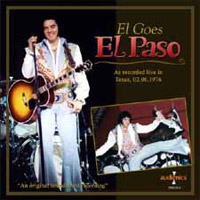 Content
Recently the Audionics label released a soundboard recording of Elvis' gig in El Paso on June 2nd, 1976. Here is our verdict.

Design

Regarding the material Audionics had to work with, the cover art looks okay. Elvis didn't look at his best that summer, and it shows (too) often in the booklet. We were terrified with a picture that would do well in an "ugliest Elvis picture ever"-contest upon opening the CD, but that shock effect made us milder on the remaining of the booklet. The only comment we can have is that it seems to be a bit pale on some pages. The liner notes are a nice read, informative, honest and mainly true (we have our doubts about Al Dvorin being the announcer). The explanation on the audio quality is a good addition, and gladly the made the decisions they made… not altering the sound with strange remixing, effects and such.

Content

Well, what can we say? It is a 1976 show, and not from the final tour of the year. That should be enough for most fans. We can add that it is certainly not belonging to the worst half of 1976-shows. Elvis is in a good mood, but not spoiling every song with trying to be funny and his voice is above par (for post 1975). The highlights are "Help Me" and (of course) "Hurt" (including full reprise), but overall it is more of the same.

As said above, the sound is not altered with mixing, but as is, including some feedback problems and nearly complete (the cassette was turned during the piano solo). Elvis, JD Sumner and James Burton are up front, which gives the sound a somewhat "unbalanced feeling", but it is very listenable.

Conclusion

A must of course for the "completists" among us, but we wonder if a casual buyer would really be happy with this one.

Tracks:

01. Also Sprach Zarathustra (2001 Theme) - 02. C. C. Rider - 03. I Got A Woman / Amen (medley) - 04. Love Me - 05. If You Love Me (Let Me Know) - 06. You Gave Me A Mountain - 07. All Shook Up - 08. (Let Me Be Your) Teddy Bear/Don't Be Cruel (medley) -09. Help Me - 10. Fever - 11. Jailhouse Rock - 12. And I Love You So - 13. Polk Salad Annie - 14. Band Introductions - 15. Early Mornin' Rain - 16. What'd I Say - 17. Drums Solo (Ronnie Tutt) - 18. Bass Solo (Blues - Jerry Scheff) - 19. Piano Solo (Tony Brown) - 20. Electric Piano Solo (David Briggs) - 21. Love Letters - 22. School Day (Hail Hail Rock'n'Roll) - 23. Hurt #1 - 24. Hurt #2 - 25. Hound Dog - 26. Funny How Time Sips Away 27. Can't Help Falling In Love - 28. Closing Vamp/Announcements.