The Best Of Blue Hawaii Sessions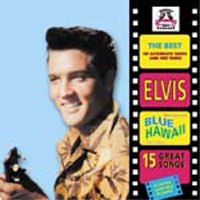 Content
On March 21 1961, two weeks after the excellent Nashville session that produced the classics 'Feel So Bad', 'Give Me the Right', 'There's Always Me' amongst others, Elvis and his regular band headed to Hollywood Radio Recorders to tape the Blue Hawaii soundtrack. In 1997 BMG re-released the original album with 7 extra alternate versions but this excellent Czech compile gives us a further insight into the recording of some of Elvis' most commercially successful movie songs.

The phenomenal success of Blue Hawaii may have, unfortunately, led the Colonel and Elvis down the trail of endless 'formula' movies with dreadful soundtracks but in 1961 the spark was still there. The true highlight of this CD is hearing the creative process at work on compositions such as Blue Hawaii, Can't help Falling in Love and Rock-A-Hula Baby. Listening to these rare alternate versions along with Elvis' studio chat would be a delight for any Elvis fan.

A packed CD, at 78 minutes long, this Czech import is a great value compile which does not repeat the already BMG released outtakes nor contain the Blue Hawaii Masters.
But for a closer examination . . .

Hawaiian Sunset Take 1 starts the CD. It was 1pm 21/03/61 and it was with this song that Elvis began the Blue Hawaii sessions. This version is a fine start and close to the final Master that was a splice of take 4+7.

Aloha Oe Elvis works on the vocals with the Jordanaires with some interesting studio comments and nice inter-action. Ku-U-I-Po Several attempts and false starts up to Take 8 - Take 9 was the Master No More. A great track. Starting at take 1 we hear 6 takes showing Elvis' and the bands progress with this tricky song's phrasing, Italian feel and demanding ending. Interestingly we also get Take 5 where Elvis says "I got carried away and forgot to look at the lyrics" which appeared on the 1997 Blue Hawaii BMG CD but here appears in context

Slicin' Sand Before Take 15 Elvis sings an 'altered' line from 'There's Always Me' "When the evening shadows fall and you're wondering who to ball" a nice touch of silliness. It's hard to believe that they worked so long on this beach/rock song with Take 19 as the Master! Take 4 on the 1997 CD is a little 'rougher' which I think had to benefit a song of this kind. Blue Hawaii. The song that started their second day of recording and here we get the complete session from take 1 as Elvis works towards the Master, Take 7. Some great listening as everyone, including Elvis, has trouble with the 'shuffle section' of the song - lots of studio discussions too.

Ito Eats Along with 'Big Boots' off GI Blues here continues the slide towards the formula. I've always hated this song but here Elvis also finds it as stupid and breaks up laughing - We only get 4 minutes of them at work. Easier listening than the final version!

Hawaiian Wedding Song. Take 1 only which is very similar to the master, take 2. They must have practised hard beforehand and only a slight unsureness of the Hawaiian lyrics would have stopped this version from becoming the Master.

Island of Love The best of 12 takes - Another great track with a superb Hawaiian feel - Elvis gets "A frog and a tadpole" in his throat. On take 9 Elvis makes a lovely quote "A wise men changes his mind, a fool never does".
Steppin' Out of Line A good 'film rocker' deleted from the final soundtrack (but which later appeared on Pot Luck). Here the band work on takes 9-15, sounding a little rough, Boots Randolph lets rip and even with a little distortion this sounds excellent.

Almost Always True Takes 1-5, Elvis has trouble working out how the lyrics will fit - gaps had to left for the extra dialogue in the film itself.- They start a little fast and it falls apart with everyone laughing - "That's not so easy to do with a rhythm song" comments Elvis. Fun stuff.

Moonlight Swim The second night finished with this lightweight song. Elvis must have liked it since at the end of the CD we get the 'Bonus Track' (a nice touch) of him singing it at home !

Can't Help Falling in Love Starting the 3rd and final day of recording here we have 11 takes including false starts - 7 minutes of Elvis working towards the final 'Movie version' of this classic. This includes some lovely moments showing Elvis, nearly 'a cappella', sounding delightfully fragile and asking for reassurance about his vocals.

"Did I come in right on the intro?" - A brilliant track showing the frustration as Elvis works hard to complete the Movie version, Take 23. It took another 6 to finish the single. You can find Take 24 on the Silver box set.
Beach Boy Blues After the marathon of 'Can't Help Falling' this was easily done in 2 takes.

Rock-A-Hula Baby Takes 1-3. The 1997 BMG CD edited these first 3 takes but here they are complete and what a way to end the CD and the session. "No one knows it yet" someone shouts but the tapes are rolling and they are away. Elvis is laughing, the band are having fun - a great track - The wild take 3 is a classic - take 5 the master.

Having finished at the studio Elvis and the band then flew to Hawaii to perform at Pearl Harbour 2 days later. This FABULOUS live show (shame about the recording quality) was released on the Silver Box set and ended Elvis' intense month of work - 30 songs recorded - multiple gold records and possibly his best concert of all time and all completed in just one month.