Because Of Love, Volume 2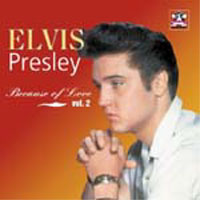 Content
"The second part of our collection brings more of relatively less known songs from Elvis repertoire. Most of them appeared previously on different movie soundtrack LPs, often in a company of songs of very mediocre quality". This text from the producers of the CD kid of says most of it. A collection of Elvis lesser known songs is not going to be a CD which is going to be played too often. this release contains both masters and out-takes. Always nice to hear is the duet "The Lady Loves Me" with Ann Margret. The undubbed "Tomorrow Night" release is the best track of this CD. It has a little less blues, and more a country feel.

The cover art is decent and fits the tracks, but they cut away piece of Elvis eye. Once you've seen it, you can't keep your eye off it. The text is in both Czech and English. Overall we our conclusion is that these CD's are interesting to those who collect out-takes and missed the import releases from the past, or those who stick to "official" CD's only and do want to have these out-takes. These CD's are legal until the end of 2000 when Czech legislation changes.

For the real collector, there's probably not too much he hasn't already got on these CD's. Although the thematic presentation of the out-takes is a great idea which makes the tracks come together as a whole.