From The Vaults, Volume 3 - Blueberry Hill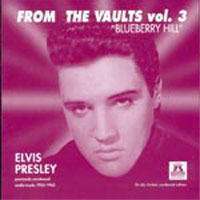 Content
The third and final release in this "From The Vaults" is the best of the three releases that were released by the Czech Elvis Presley Fan Club. It features tracks from 1955 (1 SUN track) to 1965. Almost spanning the first ten years of Elvis' career.

To start with one of the most interesting tracks, the SUN rehearsal. It's a mainly a melody practice by Scotty Moore lasting about one-and-a-halve song. You can hear Elvis in the background.

As for the other tracks, it's a well-balanced CD to listen to. And there are some interesting versions of well known tracks on it. On "Blueberry Hill" the drummer sound to be one count behind. Listening to out-takes it's more fun / interesting to listen to the well-know songs and more up-tempo songs. The first for having it completely in your head, the second since there's more chance for the artists to "break up" the song, especially in the way Elvis recorded his (early) tracks around the microphone. The sound on this CD is better than on earlier releases, but you can still hear variations in the sound quality, probably due to the various sources used for this collection. Listening to the tracks on a stereo this is heard better than listening to it on your PC writing a review.

The CD is a picture disc in the same style as the earlier two releases. The cover art is decent, in the style of the previous two releases in the "From The Vaults" series, in a "red and white" style. Each track has some extra information in both English and Czech. Overall we our conclusion is that these CD's are interesting to those who collect out-takes and missed the import releases from the past, or those who stick to "official" CD's only and do want to have these out-takes. These CD's are legal until the end of 2000 when Czech legislation changes.
For the real collector, there's probably not too much he hasn't already got on these CD's. Although the thematic presentation of the out-takes is a great idea which makes the tracks come together as a whole.