Two On One (Something For Everybody/ Pot Luck)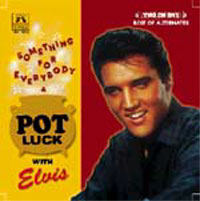 Content
Two On One sounds pretty poor overall. It looks like the producer(s) of this CD tried to alter the sound, or something went wrong during copying. The volume is too high on many of the songs, which sounds pretty disturbing, e.g. in It's a Sin.

A one on one copy of the originals might have been better. The take of There's Always Me (2) sounds much better on the original Bilko-series than on this CD, while with a straight copy this wouldn't have happened.

It is amazing how some fooling around on a PC can ruin some of Elvis' finest early sixties recordings.