Lawdy Miss Clawdy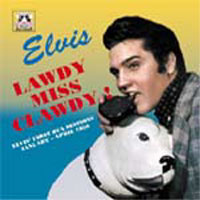 Content
On Lawdy Miss Clawdy the two commercials are about the most interesting thing for most people. The RCA Elvis Presley Record Player commercial could be downloaded months ago from the Internet already, and maybe it's that version that ended up on this CD.

The Perfect for Parties is fun, but proves why the youth needed something different in the fifties. There's also a CD out now, "Perfect For Parties" with the entire "Highlight Album" on it.

The sound quality of this CD is fair enough, but you can clearly hear the different sources, especially when listening the Lawdy Miss Clawdy takes in a row.

Conclusion

Does not contain something really new.