The Alternate Girls! Girls! Girls!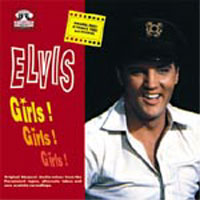 Content
This release contains masters, movie versions, and out-takes from the "Girls! Girls! Girls!" soundtrack. The booklet contains some words from Elvis about making movies and progression as an actor (also on the CD), and explains what "binaural" takes are. (A primitive kind of stereo with certain instruments on either the left or right speaker which you can hear very well on this release). Finally there are some interesting background stories on a couple of tracks.

The sound quality differs a bit, but looking at the various sources (movies and acetates / bootleg releases) that's explainable. And after a while the hearing some of the songs over and over again they become a bit irritating (especially the guitar in "Plantation Rock"). This is not the case on the "Jailhouse Rock Sessions" CD, but that's probably because we prefer those tracks to these. The CD is almost 80 minutes.