Just A Closer Walk With Thee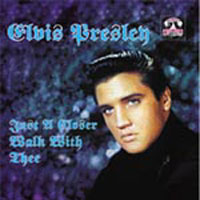 Content
This CD focuses on Elvis gospel recordings, providing us with out-takes of 19 songs and an excerpt from "Elvis Answers Back".

Design

The CD is a picture disc with a big picture of Elvis' face. The cover art is decent, it has the "feel" of a Christmas CD. The font is "gothic", so it fits the theme of the CD, but you have to read it closely to decipher it into the title. The whole does catch the eye.
The booklet gives some info to each track and a short overview of chart achievements of some of Elvis' gospel releases. The way this CD is presented makes it look like a CD released for all the (Elvis)world and not just the Czech Republic.

Content

On the 19 tracks of this release you can hear Elvis work on these songs. Most of these versions are available on other CD's, like "Surrender by Elvis (Studio B sessions, Volume 1)" and "Stand By Me volumes 1 and 2" which were released in 1996 and 1997.
The collection is a nice mix of "old black southern gospel" and well known inspirational songs. For a CD with out-takes it is a nice CD to pick from your collection and put in your player and enjoy. A lot of out-take releases, with all the takes presented in a row, are CD's you have for your archive. They can get boring because the different takes become one long version.