Anything That's Part Of You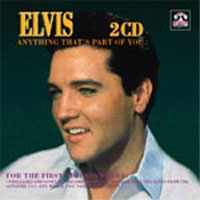 Content
A double CD with fourteen different songs from two session presented in twenty tracks. They were recorded in Nashville on October 15 and 16 1961 and March 18 and 19 1962.

Design

The CD has a bit plain design. It's nothing special. The booklet and the (picture) CD's contain several promotional photos of Elvis and the people behind these releases.
The booklet contains some background information on the sessions, the musicians and the songs. It is also an "Adios and Thank You" from the Czech fan club explaining why this series of Czech releases has to end..

Content

The booklet also reads "this release is not likely to end up on the playlist of your next party" and we agree here. This is typically a release for the real fan who wants to hear Elvis at work in the studio on a song. That way you can appreciate the final master or regret they didn't follow a certain try-out.

According to the booklet Elvis recorded some of the best songs of his repertoire in these sessions, "Good Luck Charm", "I Met Her Today", "Suspicion" and "Just Tell Her Jim Said Hello". We do agree on these tracks, but unfortunately not too many out-takes of these tracks are available on this release.

Several versions were released on import releases, like the "There's Always Me" series and "24 Carat Gold" release, but they are now presented as a whole "session" in the correct sequence and including the studio chat.
The introduction is written by Elvis Unlimited. They are involved in several releases from the Czech fan club. The author, Arjan Deelen, is pretty honest in his introduction, describing the kind of release, this is very accurate. We don't agree on every particular song, we'd rather listen to several takes in a row of "Suspicious Minds" (listen to "Finding My Way Home") than 17 minutes of "For The Millionth And The Last Time". But for an out-takes collector this release is a nice addition to the collection.

Conclusion

Overall we return to our conclusion for the previous Czech releases. These CD's are interesting to those who collect out-takes and missed the import releases from the past, or those who stick to "official" CD's only and do want to have these out-takes. These CD's are legal until the end of 2000 when Czech legislation changes, at least in the country where they are made.

For the real collector, there's probably not too much he hasn't already got on these CD's. Although the thematic presentation of the out-takes is a great idea which makes the tracks come together as a whole.