The Best Of G.I. Blues Sessions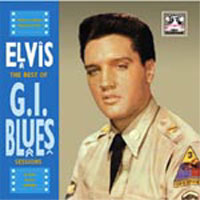 Content
This CD focuses on Elvis recording session for his G.I. Blues Album, starting of with Elvis being sworn in in the army.

Design

The CD itself is a picture disc with a head to toe shot of Elvis printed on it. The cover is done in the same style as the G.I. Blues soundtrack, but with a slightly different picture. The back contains a filmstrip like on the "Blue Hawaii soundtrack. The booklet gives some info to each track.

Content

On the 20 tracks of this release you can hear Elvis work on several tracks of the G.I. Blues soundtrack. Of all the songs at least one alternative take is present. The CD also contains a recording of Elvis being sworn into the U.S. Army and a commercial for G.I. Blues. These are nice additions to the songs.

The tracks on these CD cover all songs from the original soundtrack. Because the songs are more known listening to these out-takes in a row is more pleasant than listening to previous out-take collections. They left in the studio chat. Looks like they did save some of the best for last.

Conclusion

Overall we return to our conclusion for the previous Czech releases. These CD's are interesting to those who collect out-takes (or in this case movie versions) and missed the import releases from the past, or those who stick to "official" CD's only and do want to have these out-takes.

For the real collector, there's probably not too much he hasn't already got on these CD's. Although the thematic presentation of the out-takes is a great idea which makes the tracks come together as a whole.