For Movie Fans Only, Volume 2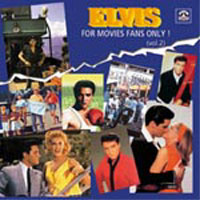 Content
The last release from the Czech Fan Club are 3 CDS that showcase all the unobtainable and 'alternate' versions of songs from Elvis' movie soundtracks plus the bonus of a little dialogue. Unlike the excellent "Best Of G.I. Blues, Blue Hawaii" etc Czech CDS, these are not 'Studio Outtakes' but the genuine songs lifted from the original films.

This made me a little apprehensive at first, not only about the possible poor quality but also I wondered - 'How different can the songs really be?'. - And, do I really want even more Elvis' material from some, let's be honest, very dodgy films ?! Well I shouldn't have worried since the quality of the remastering is Brilliant - Also the CDS themselves are very cleverly compiled and they made me laugh and smile all weekend. To be honest these are the films that I grew up with - Fun summer weekends watching Elvis' movies on TV - and listening to all these CDS gave me happy flashbacks to my youth !

I also admit that the better Elvis' 60's soundtracks - even Harum Scarum (in patches) - appeal to me but I am also not the sort of person who would ever listen to, for instance, the Kissin' Cousins or Roustabout soundtrack albums.
Each FMFO CD is packed full - 35+ tracks on every one!- and each covers about 7 of Elvis' films. What I found I enjoyed most was the fact that the CDs really had the Elvis "Movies vibe". I honestly felt that I was back in the cinema and that I had 're-lived' 7 Elvis movies in 75 minutes!

Listening to them you truly do realize why the producer, Pavel C, called them "A Slavery of Love" ! As a bonus the CD covers are nicely produced as well and packed full of photos. So what are the musical Highlights ?
From 'Follow That Dream' ('62) to 'Viva Las Vegas' ('64), 35 tracks, seven movies, 65 minutes.

'Follow That Dream' starts Vol. 2. -"On Top of Old Smokey" (only 4 lines) is the rarity here. 'Kid Galahad' follows but it is 'Girls, Girls, Girls' that provides the first real highlights. All these songs have a great movie feel. The title track with orchestra (plus movie intro) is great fun and both "Thanks to the Rolling sea" and "Song of the Shrimp" sound much better with the added atmosphere of being on the tuna boat! The unreleased duet with the Tiu sisters on "Earth Boy" is featured but really isn't my cup-of-tea. However the unreleased "Dainty Little Moonbeams/Girls, Girls Girls" final medley really does work. 'It Happened at the World's Fair' kicks off with a nice version of "Beyond the Bend" with added sax section. "Take Me to the Fair" has a great overdubbed mandolin and we get the cute and unreleased duet with Vicky Tiu, "How Would You like to be" (Good Trivia question - "Which Elvis song features 'a little Kangaroo' ?!). The finale of "Happy Ending" where Elvis is joined by country singer Joan O'Brien is a treat too.
I admit that I'm a sucker for 'Fun In Acapulco' so all 6 tracks here sound just fine to me! The 'live' club atmosphere on "I think I'm Gonna Like it here" and "Guadalajara" sound great, plus we get the unreleased duet with Larry Domasin on "Mexico". It's unbelievable how the quality plunged from 'Blue Hawaii' to 'Kissin' Cousins' just 2 years later - but luckily the CD ends with the classic 'Viva Las Vegas' (filmed before Kissin' Cousins in fact but actually released afterwards).
Just play the final 5 tracks and think of Elvis and Ann-Margret ! The gym version of "C'mon Everybody" is a classic and "The Climb/What'd I Say" 'live' medley is an excellent finish to the second CD.