For Movie Fans Only, Volume 1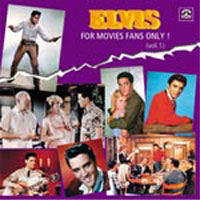 Content
The last release from the Czech Fan Club are 3 CDS that showcase all the unobtainable and 'alternate' versions of songs from Elvis' movie soundtracks plus the bonus of a little dialogue. Unlike the excellent "Best Of G.I. Blues, Blue Hawaii" etc Czech CDS, these are not 'Studio Outtakes' but the genuine songs lifted from the original films.

This made me a little apprehensive at first, not only about the possible poor quality but also I wondered - 'How different can the songs really be?'. - And, do I really want even more Elvis' material from some, let's be honest, very dodgy films ?! Well I shouldn't have worried since the quality of the remastering is Brilliant - Also the CDS themselves are very cleverly compiled and they made me laugh and smile all weekend. To be honest these are the films that I grew up with - Fun summer weekends watching Elvis' movies on TV - and listening to all these CDS gave me happy flashbacks to my youth!

I also admit that the better Elvis' 60's soundtracks - even Harum Scarum (in patches) - appeal to me but I am also not the sort of person who would ever listen to, for instance, the Kissin' Cousins or Roustabout soundtrack albums.

Each FMFO CD is packed full - 35+ tracks on every one!- and each covers about 7 of Elvis' films. What I found I enjoyed most was the fact that the CDs really had the Elvis "Movies vibe". I honestly felt that I was back in the cinema and that I had 're-lived' 7 Elvis movies in 75 minutes!

Listening to them you truly do realize why the producer, Pavel C, called them "A Slavery of Love"! As a bonus the CD covers are nicely produced as well and packed full of photos. So what are the musical Highlights? From 'Loving You' ('57) to 'Blue Hawaii' ('61), 38 tracks, seven Movies, all packed into 76 minutes.

FMFO Vol 1 kicks off with 'Jailhouse Rock' in fact, but for obvious reasons since the orchestral "Movie Intro" nicely sets the scene and there is some great dialogue - "That ain't tactics honey, It's just the beast in me" and "Man it's awful. Do I really sound like that?". The unreleased "Don't Leave Me Now" first version is a gem. 'Loving You' follows and has a delightfully orchestrated version of the theme tune and 2 versions of "Got a lot o' Livin' to do" plus audience that have a great 'live' feel to them. 'King Creole' gives us the unreleased full "Crawfish" Movie Intro and the excellent nightclub version of "As Long As I Have you". 'G.I. Blues' follows and features a nice version of the title song and 'Frankfort Special' - both with added brass section. On "Tonight Is So Right for Love" Elvis shows "Vas is 'Ooze'" and the film version of "Didja' Ever" actually sounds better than the official release. Hell, it was an 'army sing-a-long' song after all- and the nice touch of Elvis saying "Didja' Ever?" at the end, wraps up the song and the 'movie' very nicely! 'Flaming Star' has everyone joining in with "Cane and a High Starched Collar" while from 'Wild in the Country' we have the best quality version of the "Husky Dusky Day" duet with Hope Lang that I have heard.

10 tracks off 'Blue Hawaii' end the CD. Here we have the bonus of Elvis' dialogue on great versions of "Almost Always" and "Can't help Falling in Love" plus a very different version of "Beach Boy Blues". All the songs have the genuine Soundtrack feel and the finale of "Hawaiian Wedding Song" ends the first FMFO CD on a great note.