The Continuing Story Of Memory Records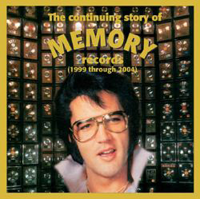 Content
The year ElvisNews started, a new record label was born too, Memory Records from the Czech Elvis Presley fan club. They celebrate their fifth anniversary with a "golden" CD.

Design

"Gold" is very much the theme of this CD. The cover contains a picture of Elvis' trophy room, and Elvis wearing his "golden" glasses. The image is framed in gold.

A nice cover, but with this theme we would have chosen a picture of Elvis accepting one of his awards. Most of the design effort went into the front cover, the back with a CD theme, looks like a CDR. In the booklet the producer tells the story of the Record Label, both the history and the releases. Seeing all the releases in a row, almost fifty titles, the label has been very busy the last five years.

Content

Due to a change in EU legislation the Memory label could no longer release studio out-takes, but can release amateur recordings. Or "audience recordings" as most fans know them. The releases from the fan club shifted from out-takes to audience recordings. Due to the legislation this five year anniversary CD can mainly contain audience recordings and four sound board recordings.

The producers selected a best of and added two bonus tracks. You can compare the thirty tracks on this CD a bit to "We Did Not Rehearse Them", a collection of songs Elvis didn't perform too often live on stage. As described in the liner notes, although many concerts were recorded by RCA and The Colonel, not many of these recordings have been released officially. So an audience recording will have to do for those who don't want to wait until they are old and grey to hear them on an official release.

Several very interesting tracks were (re-)released by the Memory label. Both previously released and previously unreleased concerts were released by the Czech fan club. Giving fans new material and new fans an opportunity to find unavailable releases.

The most interesting track is the live version of "Pieces Of My Life" from June 24, 1975. Taken from a new source the song is now presented for the first time at the right speed. A very big improvement over the previous release of the only live version of this song.

Conclusion

If you're not a big fan of audience recordings you might want to get this one to get your hands on a few very interesting live performances you would have had to buy a lot of single CDs for.

We congratulate the Memory label on their fifth anniversary, let's see what they come up with in the next five years.