The Cover Up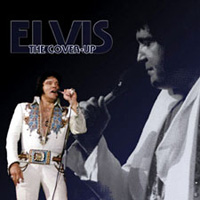 Content
The second talking CD from the Czech Elvis Presley fan club.

Design

The CD deals with Elvis' death, so the cover of the "Cover Up" CD is not a happy one; Elvis live on stage in 1977 (not looking his best), the hearse and newspapers announcing the death of The King.

The booklet is the first multi-page booklet unveiling the story of the "cover-up" surrounding Elvis' untimely death.

Excerpt from 8 pages booklet:

In the summer of 1979, a production team from sensational investigative TV show 20/20 moved down to Memphis. In September, the Tennessee Medical Board charged Dr Nick with gross malpractice over the illegal prescription of painkillers and other drugs to Elvis, and 13 other patients. The hour-long 20/20 special, 'The Elvis Cover-Up', was broadcast in 1979, maintaining that Presley was killed by an overdose of prescription drugs.
The Medical Board Tribunal heard evidence of astounding volumes of prescriptions written by Dr Nick. Between 1975 and 1977, he had prescribed 19,000 doses of drugs. In the first eight months of 1977 alone, he had written 199 prescriptions totalling more than 10,000 doses of sedatives, amphetamines and narcotics: all in Elvis's name."

Content

This release is the second "talking" CD from the Czech fan club after their "On Tour" release. It is an audio documentary which tries to uncover the cover –up surrounding Elvis' death, especially "did he die of (prescription) drugs?" and "are several people, e.g. the private doctors, guilty?"

Through interviews with several persons and people involved (Ginger Alden, Geraldo, dentist Dr. "Feel Good", doctors involved in the autopsy and of course Dr. Nick) paint a dark picture. The outcome of documentaries like this is mainly based on the material presented, as a producer you select what the listeners hear … and might believe.

We must compliment the producers on their effort to paint a realistic picture and deal with one of the most negative aspects of Elvis' life, his medicine and drugs abuse. But to point a finger to who is guilty of the death of Elvis … you decide yourself. To us this is just one of the theories surrounding Elvis' death, not uncovering anything, but just adding another view.

This CD contains five live performances from 1977 which enlighten the dark documentary on the "cover-up" of surrounding Elvis death, and Elvis singing is what we prefer.

Conclusion

An interesting, but dark and sad documentary on Elvis death … it doesn't make you feel happy afterwards, give us "Queenie Wahine's Papaya", "Muss I Denn" or even "Yoga Is As Yoga Does" any day of the week and twice on Sunday in stead of talking about Elvis death!

Track listing:

01. August 16th 1977: Introduction of Ginger Alden (Rapid City 21.06.1977) / Ginger Alden interview / Overview of last 12 hours of Elvis' life / Jerry Francisco press conference (Shelby County Medical Examiner) #1.

02. I Really Don't Want To Know (Jacksonville 30.05.1977).

03. Cover-up: Maurice Elliot interview (spokesman for Baptist Memorial Hospital) / Dr. Noel Florindo interview (asst. doctor during autopsy).

04. The Truth Comes Out: Bio Science Laboratory test results / Dr. Jerry Francisco press conference #2 / Raymond Kelly interview (from Bio Science Laboratory) / Matthew Ellenhorn interview (toxicologist) / Cirol Wick interview (coroner / medical Examiner) / David Stanley interview (Elvis' stepbrother) / Ginger Alden interview (Elvis last girlfriend) / Ricky Stanley (Elvis' stepbrother) / W. S. Nash interview (pharmacist who filled Elvis' perscriptions).

05. Help Me (Lincoln 20.06.1977).

06. Geraldo Rivera asks why and who allowed this to happen to Elvis.

07. Keeping an Eye on the King: John O'Grady interview (Elvis and Vernon's private detective) / Jack Kelly interview (private detective) / Dr. Max Shapiro interview (Elvis dentist also known as Dr. Feelgood) / Ricky Stanley interview.

08. How Great Thou Art (Tempe 23.03.1977).

09. Dr. Nick speaks out: Dr. George Nichopoulos interview / Marty Lacker interview.

10. Dr. Nick Again: Dr. George Nichopoulos interview / Jack Kirsch interview.

11. Bridge Over Troubled Water (Binghampton 27.05.1977).

12. Proof of cover-up: W. J. Hampton Jr. interview (Expert on Elvis' 1977 tours).

13. Warning Signs: Conclusion of cover-up story / Barbara Childers INTERVIEW (she found prescription bottle in Elvis' airplane's trash in February, 1977 while Elvis was performing in Charlotte, NC).

14. Unchained Melody (Lincoln 20.06.1977).

15. Famous People speak about Elvis: Carl Perkins interview / Al Green interview / Chet Atkins interview / Chuck Berry interview / Charlie Rich interview / Segments of Madison Square Garden press conference.

16. More Famous People Speak about Elvis: Marianne McKinnis interview / Knox Phillips interview (Sam Phillips' son) / Elliot Clark interview / Floyd Cramer interview / Rufus Thomas interview (Black disk jockey) / J.D. Sumner interview.

17. Hurt (Johnson City 19.02.1977).

18. Elvis' close friends speak: Richard Scates (Elvis Memphis Friend) / Willie Nichols (Elvis' Memphis friend) / Sonny West and Dave Hebler interview (Elvis' Bodyguards) regarding their book "Elvis What Happened" / Dr. Elias Ghanam interview / Sonny West interview / Marion Cocke interview (Elvis Nurse) / J.D. Sumner interview Sonny West Interview / David Stanley interview / My Way (excerpt, Orlando, 15.02.1977).