Movin' Mobile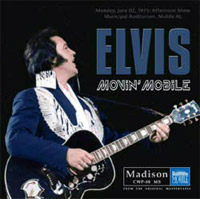 Show date:
1975/06/02 afternoon show
Content
Finally a show from the June 1975! No, this isn't the right start for the review of this CD, since it seems to be the zillionth, we even have "A Capital Performance" of the same day. Is it still worth buying?

Design

As we are used to by now, the Madison design is in one word superb! Honest, describing liner notes are decorated with known and unknown pictures of the tour in a very tasteful lay-out. If only more releases were done in this high level…

Content

The show has about the same track list as all the others from this tour. The oldies gets the same rushed treatment and the same kind of jokes are made. Unfortunately it is – like the others of this tour – incomplete. The show starts with the ending of "I Got A Woman/ Amen", and misses a part of "T-R-O-U-B-L-E" and "Can't Help Falling In Love". Overall it is a decent performance with much more listening pleasure than e.g. FTD's recent "Closing Night".
The two most remarkable tracks of the CD – next to the stereo bonus of "Let Me Be There" – are "Burning Love" and "Mystery Train/ Tiger Man". The first gets a great rocking treatment, after Elvis first announced "Polk Salad Annie" (which was the alternate during this tour), correcting it to "Burning Love", even the fact Elvis messed up the final verse couldn't spoil this version. The medley is great as almost ever, proving Elvis could still bring some good old rock and roll if he wished to.
The sound of this Madison has (again) a bit "too much high" for our ears. Gladly we can correct that easily. At least it is a sound board "as is", without added reverb or other irritating "mixing effects".

Conclusion

"Movin' Mobile" is a nice addition to the collection, if only because of the artwork, but it doesn't stand out from all the other shows of this tour.