Shining In Portland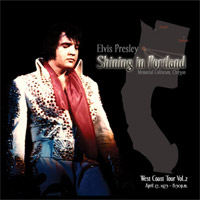 Label:
Memory Records CD MR 2039-2
Show date:
1973/04/27 E.S.
Content
The second installment from the Czech Republic for Elvis' Portland concerts. Is he shining in Portland?

Cover

As with the other Portland release, again a well designed cover. The photos of Elvis date from the day before, but the pictures of the venue and the seating are good to complete the image of the concert. The liner notes are a well written review of the concert and era of Elvis life and the kind of liner notes that add to the total release. The printing could have been a bit better; you can see the editing inside the booklet.

Content

Elvis April 27, 1973 concert was a good one. Just a few months after the Aloha show and another Vegas engagement Elvis seemed in a better mood delivering a longer and more energetic show.
Right from the energetic start, and of course on the dramatic ballads you can hear Elvis pour his heart out. The latest single "Steamroller Blues" from his Aloha show, "I'll Remember You" and "An American Trilogy" are the highlights of this show, as is a different version of "Hound Dog" with a slow intro.

Another old rocker which gets a good treatment is "A Big Hunk O' Love" before Elvis ends the show with his standard 'I Can't Help Falling in Love".

The sound improved over the previous releases of this concert on the 1993 Live Archives release "Back in Portland". In the beginning Elvis is a bit further in the back than later in the show, but overall this is an audience recording you can listen to easily. This release has a bit more depth than the Live Archives version which has a " more flat" sound. But on the latter release Elvis' voice can be heart better in the beginning.

The CD ends with several bonus tracks from his Seattle evening show of April 29, 1973 which have not been released on CD before. Especially interesting is "You Gave Me A Mountain" on which Elvis recites the lyrics of the second verse, something he didn't do very often. It adds more drama to the song. The audio quality is not as good as that of the Portland concert, but the performances themselves are good.

Conclusion

Elvis was shining in Portland April 27, 1973, so if you haven't got the previous outings of this concert then this is a recommended CD. And yes, we keep hoping a real soundboard from this audience recording will see the light of day someday.

Track listing

01. Also Sprach Zarathustra (2001 Theme) - 02. See See Rider - 03. I Got A Woman // Amen (medley) - 04. Love Me Tender - 05. You Gave Me A Mountain - 06. Steamrroller Blues - 07. You Don't Have To Say You Love Me - 08. Love Me - 09. Blue Suede Shoes - 10. Heartbreak Hotel - 11. Little Sister / Get Back (medley) - 12. Help Me Make It Through The Night - 13. Long Tall Sally / Whole Lotta Shakin' Goin' On (medley) - 14. I'm Leavin' - 15. Hound Dog (slow && fast) - 16. Fever - 17. What Now My Love - 18. Suspicious Minds - 19. Band Introductions - 20. I'll Remember You - 21. I Can't Stop Loving You - 22. An American Trilogy - 23. A Big Hunk O'Love - 24. Can't Help Falling In Love - 25. Closing Vamp / Announcements.

Bonus tracks (Seattle, Washington, 29.04.1973 Evening show):

26. You Gave Me A Mountain (spoken version) - 27. Steamroller Blues - 28. You Don't HHave To Say You Love Me - 29. I'll Remember You - 30. Help Me Make It Through The Night - 31. An American Trilogy.