Live At The H.I.C.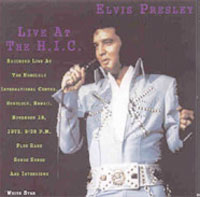 Content
Elvis On Tour Spot - Excerpts From The Aloha From Hawaii Press Conference, Las Vegas. September 6, 1972 - Oh Happy Day (Live, Las Vegas. August 14, 1970, M.S.) - It's Crying Time (Live Las Vegas. August 12, 1970, M.S.) - Excerpts From The Aloha From Hawaii Press Conference, Honolulu, Hawaii. November 20, 1972 - Tiger Man (Slow Version) (Live, Las Vegas. August 11, 1973, M.S.)

Intro - See See Rider - I Got A Woman / Amen - Good Evening Ladies And Gentle Men - Until It's Time For You To Go - You Don't Have To Say You Love Me - Polk Salad Annie - Elvis Talks To The Fans - Love Me - All Shook Up - Heartbreak Hotel - Blue Suede Shoes - Just Pretend - Teddy Bear / Don't Be Cruel - Love Me Tender - Little Sister / Get Back - Hound Dog - I'll Remember You - How Great Thou Art - Suspicious Minds - Introductions - What Now My Love - Fever - Burning Love - You Gave A Mountain - A Big Hunk Of Love - Can't Help Falling In Love - Closing Vamp

Amazing Grace (Live Las Vegas August 14. 1973) - Early Morning Rain (Live spring of 1977)
Reviews
Elvis' performances in Hawaii always have had something special. He performed there last in 1961 before returning to the stage eight years later. And we all know the classic 'Aloha From Hawaii' special. Is this performance, released on the White Star label, special too?

Design

Is there any? Good pictures were chosen for the cover and the back. But they are printed in bad quality and some poorly chosen colors and font for the content makes it hard to read. In other words, it is a poor booklet. Inside the booklet we only find some crystal clear empty white pages.

Content

Just like the "Fever Pitch" CD with a collection of Hawaiian related recordings, this one contains a collection of different material too. A radio commercial for "On Tour", excerpts from 1972 Aloha press conferences, and live recordings of songs Elvis rarely sung on stage dating from 1970, 1973 and 1977.

By itself nothing new, but strange to have this kind of material before and after the main content of this CD, the November 18, 1972 concert at the Honolulu International Center.

The concert at the H.I.C. received some great reviews in the local press from the critics. From the Star Bulletin: "Elvis performed for an hour and ten minutes at the HIC Arena last night and showed a capacity crowd of 8,500 why he is the hottest show business attraction in the world today". Other reviews from this tour were also very positive.

Unfortunately we can not hear this that well on this recording. Although a good recording from the audience, Elvis and the band are too far in the back to hear Elvis perform as well as the review describes. This recording simply lacks the power Elvis showed Honolulu that November night.

He added his single "Burning Love" to the set list, a song he didn't want to perform earlier in the tour according to Stein Erik Skar's book "The Concert Years". This book is probably the source of the photos on the cover too.

Conclusion

You hear Elvis and his band perform a good show, with some raw guitar playing on "Polk Salad Annie", but due to the quality of the recording you don't get the magic he poured out on stage that night. Hopefully a better recording will emerge some day.