Forum Of Inglewood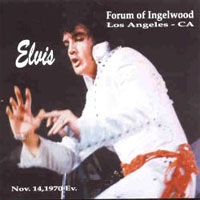 Location:
Forum Of Inglewood - Los Angeles
Content
That's All Right / I Got A Woman / Love Me Tender / You Don't Have To Say You Love Me / You've Lost That Lovin Feelin / Polk Salad Annie / Johnny B Goode / Introductions By Elvis / How Great Thou Art / The Wonder Of You / Heartbreak Hotel / Blue Suede Shoes / One Night / Love Me / Trying To Get To You / Elvis Talks / Hound Dog / Elvis Talks(some more!) / Bridge Over Troubled Water / Suspicious Minds / Elvis Talks (some more) / Can't Help Falling In Love - Vamp / Polk Salad Annie - Can't Help Falling In Love - Vamp
Reviews
We already had the afternoon show and now the evening show of Elvis' performances in Los Angeles on November 14, 1970 has been released. How good is a CD with a typo in the title ("Ingelwood" in stead of "Inglewood")?

Design

The design is very plain, a picture of Elvis on the front and back, and a nice action shot as a "fold out" inside the booklet (all from the afternoon show). No liner notes or other information whatsoever. We wonder why none of the famous "fringe-photos" were used, Elvis had that suit made for this show.

Content

This is the first time this show is released on CD; it has been available on tape and on the WWW. We already had releases from November 11, 12 and 16.

The Forum Of Inglewood was the biggest venue on this second tour of 1970 and no other artist had ever sold out the 20.000 seats. It took Elvis only 5 hours, an extra concert in the same venue sold out a few days later. This audience recording catches Elvis wearing the famous Fringe suit, which got all tied up.

The concert itself is a short one, running little under 55 minutes, but Elvis puts down a good show. He is outspoken telling the audience about the number of Gold records he had (200 million sold by then) and a maternity suit, claiming it is not true.

Musically it is a good show to listen to, even in this quality, with too much low-tones and Elvis sometimes way in the back. Elvis is joking on "Love me Tender", strong on "You Don't Have To Say You Love Me" and "You've Lost That Lovin' Feeling" and fast on "Hound Dog". "Polk Salad Annie" is a good version, the second half mostly instrumental since Elvis gets tied up in the fringes during the last song, and therefore probably introduces the band this early in the show. After James' signature song "Johnny B Goode" the rest of the band is being introduced. "How Great Thou Art", without the (sometimes annoying) reprise, is the first on-stage version which really gets the audience enthusiastic. Although he speaks the words a bit fast sometime, and the versions are short, like "The Wonder Of You", the performances still are very enjoyable versions. In 1970 it is already clear which songs Elvis likes to perform on stage, and the basic list for the rest of his touring years can be made out.

The fifties classics already get the "quickie" treatment, but still the audience reacts like this is what they came to hear. Elvis and Ronnie seem to play a game to see who finishes "Hound Dog" first (Elvis won).

The show is closed with the standard song. But this time, after the end of "Can't Help Falling in Love" the band slips into a few bars of "Polk Salad Annie" giving Elvis time to untangle his fringes from the microphone cord, before we get a reprise of the bridge of 'Can't Help Falling in Love" closing this show definitely.

Conclusion

This is an enjoyable show to listen song wise, but not so enjoyable audio wise, as with many audience recordings. But for now this is all we have to enjoy.