Fever Pitch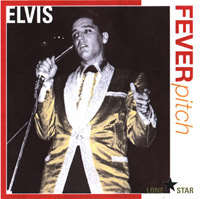 Content
1. Fever (take 1) / Fever (take 3)
2. House Of Sand (one line only)
Radio broadcast:
Introduction
Dialogue
Take My Hand, Precious Lord
I Believe In The Man In Sky
Dialogue
It Is No Secret
Dialogue
Milky White Way
Dialogue
He Know What I Need
Dialogue
I Believe
Dialogue
Message from Elvis
Dialogue
Peace In The Valley
Closing dialogue
3. Introduction
4. Heartbreak Hotel
5. All Shook Up
6. Reconsider Baby
7. I Need Your Love Tonight
8. One Night
9. Tom Moffet talks to Elvis in Hawaii
10. Sand Castles (KOV 1)
Reviews
A real Hawaiian Collection, just days before Elvis' last live performance for almost a decade.

Cover

Although this CD's main focus is the Hawaii radio broadcast from March 19, 1961, the title is from the special version of "Fever" with a "pitch". Or as the producers wrote it: "previously unreleased take with nice 'fuck' ending". Does this mean this CD should be rated "Parental Advisory"?

The cover is a very attractive one, and the same goes for the booklet. Although we enjoyed the many colour images of Elvis 1961 visit to Hawaii, we do miss the line notes describing the show.

Content

As noted, the CD consist of two takes of "Fever", one line of "House Of Sand" and the march 19, 1961 radio show. The takes of "Fever" are crystal clear, released before on "Elvis Meets Presley". "House Of Sand" is a very good but short, 6 seconds, one liner.

The Radio show is a good promotion for Elvis performance in the Bloch Arena a few days later, to benefit the USS Arizona monument. Elvis sings sacred songs to match the theme of the show. This "historical" document comes in a very good quality. The show itself contains only a short comment by Elvis on the USS Arizona, but features a lot of his early spiritual performances.

The concert itself is only a part of the show, and strange enough it does not miss a beginning or an end, but it misses songs in between. We wonder where the missing pieces of tape are. The quality is much better than the official release on the "Silver Box" by BMG. The "scratches" we know from that release are not as clearly audible. Hopefully the release of this same show on the "Follow That Dream" will be even better (and more complete).

The Tom Moffat interview is well known, but matches the Hawaiian theme of this CD. "Sand Castles" has been released before too.

Conclusion

A lot of the material on this CD has been released before. What makes it interesting is the complete radio show in a good quality, which can be considered an "historical" document just before his last concert in many years. It is now waiting on the U.S. Army to recognize Elvis contribution to the monument.