Wings Of An Angel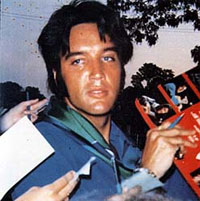 Label:
Angel Records EP 10005
Content
I Need Your Love Tonight (# 1/15)
Miky White Way (# 1/5)
His Hand In Mine (# 1/5)
Echoes Of Love (# 2/7, 9)
Please Don't Drag That String Around (# 1/4)
U.S. Male (# 1)
Wings Of An Angel (a.k.a. Prisoner's Song) (jam session)
U.S. Male (# 2/4)
Reviews
This is a nice collection of alternate takes and in great sound quality, great to have is the title song "wings of an angel"