The Unissued Elvis 1956-1958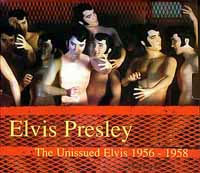 Label:
Vigotone VT-168/169
Content
(CD-1)
Lawdy Miss Clawdy (takes 7-9,12)
Shake Rattle And Roll (takes 1-3,5,7)
I Want You, I Need You, I Love You (take 3)
Peace In The Valley (take 1)
I Beg Of You (takes 5,10,11)
That's When Your Heartaches Begin (take 1)
It Is No Secret (takes 1-13)
(CD-2)
Have I Told You Lately That I Love You (takes 1-15)
Is It So Strange (takes 1-11,12)
I Need Your Love Tonight (takes 3,4,15)
A Big Hunk O' Love (takes 2,3)
Ain't That Lovin' You Baby (takes 2-10)
A Fool Such As I (takes 4,5)
I Got Stung (takes 3-8, 18,20)
Reviews
This 2 CD set from the Vigotone label comes with a 36 page booklet, and contains a compilation of outtakes from the 1956-58 era. All the songs has been released before on several other imports. The quality is pretty good, and the binaural songs from the January '57 sessions are a little better on this release then on the Stereo '57 Vol 1 & 2 CD releases. The songs "Peace in the valley", "That's when your heartache begin", and "I beg of you" are not in binaural stereo but in mono. For the fans who don't have the other Import CD's like the "There's always me" releases, this is a very good substitute.