Bringin' The House Down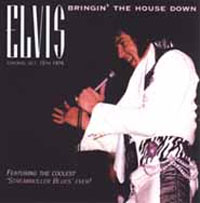 Label:
Only One King Records 0999
Content
I Got A Woman / Amen
Love Me
If You Love Me (let me know)
You Gave Me A Mountain
Help Me
Jailhouse Rock
All Shook Up
Teddy Bear/ Don't Be Cruel
And I Love You So
Steamroller Blues
Band Introduction
Early Morning Rain
What'd I Say
Johnny B. Goode
Ronnie's drum solo
Jerry's bass solo
Tony's piano solo
David's electric piano solo
Love Letters (incomplete)
Schooldays
Hurt (with reprise)
Hound Dog
It's Now Or Never
Blue Christmas
Can't Help Falling In Love
Closing Vamp
Reviews
The CD Bringin' the house down is a release from the new label "Only one King" and features the Chicago, October 15th, 1976 show, this is the show that was recorded one day after the Chicago Beat CD. This is just an average 1976 show, so it is not what the title will believe you. The only highlight is Steamroller blues, but again, not by far the best ever what was announced on the front cover.