The Teen-age Rage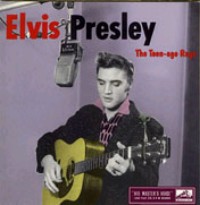 Label:
His Master's Voice HMV DLP 1161
Content
Lawdy Miss Clawdy (# 6)
First In Line (master)
I Need Your Love Tonight (# 13)
I'm Counting On You (master)
A Big Hunk O' Love (# 4)
One Sided Love Affair (master with unreleased countdown)
I Was The One
A Fool Such As I
How's The World Treating You (master)
I Got Stung (# 10)
Reviews
This is a great piece of work, it start with a great cover with the famous 1956 picture. The sound is very good, it's a thrill to hear the songs on such high quality. The cd starts with a good alternate take of "Lawdy miss clawdy", take 6, and follows with the master take of "First in line", in my opinion this song was ruined by adding too much echo. "I need your love tonight" take 13 is great, and the master of "I'm counting on you" sounds very fresh. Follows a beautiful take 4 of "A big hunk o' love" and then a master take of "One sided love affair" with the unreleased countdown, it's still one of my favourite songs. A master take of "I was the one" master is next, and "A fool such as I", and for my ears this is the master take # 9 instead of take 8 what's stated on the sleeve. Follows is a fresh master of "I'm counting on you" and it ends with a great alternate take 10 of "I got stung". This CD is finding his way in my cd-player quite often. Only 500 copies was pressed. If you are in the good fortune to buy this cd, then do it, you won't be sorry and that's a promise.