Riot In Charlotte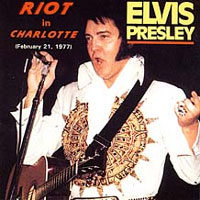 Content
2001 Theme
See See Rider
I Got A Woman/ Amen/ I Got A Woman
Are You Lonesome Tonight
Reconsider Baby/ That's All Right (false start)
Love Me
Moody Blue
You Gave Me A Mountain
Jailhouse Rock
O Solo Mio/ It's Now Or Never
Little Sister
Teddy Bear/ Don't Be Cruel
My Way
Release Me/ Band introductions
Early Morning Rain
What'd I Say
Johnny B. Goode
Chickin' Pickin' (James Burton guitar solo)
Drum solo/ Bass solo/ Piano solo/ Piano solo (By Miss Tennessee Terry Alden)
Love Letters
Hail Hail Rock And Roll
Hurt
Why Me Lord (By J.D. Sumner & the Stamps)
Can't Help Falling In Love
Closing Vamp
Reviews
Could someone explain what happened with Elvis between end of December 1976 and beginning of February 1977 ? As we all could hear from recent import releases covered Elvis 1976 December tour, he was in very strong voice and cheerful mood and gave (unfortunately probably for the last time) stunning performances; if you possess amateur footages from Pittsburgh New Years Eve show (recommended !!!) or from Birmingham 29th or Atlanta 30th, you could see how much of energy and enthusiasm he still have and at last, you can notice that he still looked very good.
In comparison to this happy tour, the first series of concerts in 1977 is very, very different and unfortunately, it's worse.Only 40 days passed since his last Pittsburgh triumph and Elvis was very overweight again, sounded tired and gave sloppy performances from time to time, and not only this : he omitted amount of songs.

But it's fair to say that during this February 12.-21. tour were some excellent moments too, but not so good shows as a whole.Elvis was in great voice and performed some rarities like "Blueberry Hill" (2x) "Release Me" (2x), "Unchained Melody" (4x), "Big Boss Man" (1x) and outstanding (and a bit autobiographical) "Where No One Stands Alone" also. You can notice from recordings that he was still in very good mood.

Also, it's good to say that the majority of 55 shows performed in 1977 was BETTER than some terrible concerts from 1974 where Elvis was so drugged (Las Vegas 31.8.1974 D/S & M/S, College Park 27. & 28. 9. 1974) or some of the poorer performances from mid of the summer 1976, because Elvis was in far better voice in his last few months.

This CD gave us complete Charlotte 21.2.1977 closing tour concert, but unfortunately the sound quality isn't good - it is taken from slightly better audience taped source and since 1995 it is greatly surpassed by FORT BAXTER'S "MOODY BLUE AND OTHER GREAT PERFORMANCES" - this CD contains main part of Charlotte show and in addition to this - rare Montgomery 16.2.1977 tracks and it all in SUPERB sound.

On photos from 21.2. Elvis looked terrible; he was very overweight and sweated,three photos of this show were printed in Albert Goldman's infamous book called "ELVIS"and you can see two of them on following page: http://www.geocities.com/~aaltonen/moody2.html and he wearing "Indian Feather" jumpsuit for the very last time.

Opening "C.C. Rider" and "I Got A Woman/Amen" are standard, after C.C.Rider Elvis sang line "here I go again..." and just before "Are You Lonesome Tonight" you can hear fragment of "Are You Sincere" . Following numbers are in far better sound on Baxter's CD, only at the start of "Moody Blue" you can hear great applause which isn't noticeable on soundboard recording. All oldies are throwaways, "Reconsider Baby" and "My Way" are both strong performances. During band intro James Burton gave his third solo "Chickin' Pickin'" and the most interesting moment comes when Elvis calls Ginger's sister Terry Alden, Miss Tennessee for 1976, to go on stage, and she played short piano solo, rather funny moment.Elvis also sung "Love Letters" for the last time on stage and it is a good version. The next couple of songs is on soundboard too, except closing "Can't Help Falling" where Elvis changes the lyrics as he sung "Wise men knows, when it's time, time to go ....", yes, only six months later it happened.....

This release could be recommended only for true collectors because its unwell sound quality, if you are regular fan, you better buy Baxter's "Moody Blue And Other..." CD.

Reviewed by Oto Meszaros, CZECH REPUBLIC.