All Things Are Possible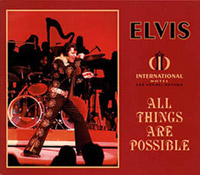 Label:
Diamond Anniversary Editions DAE 3595-4
Show date:
1971/01/27 M.S.
Content
2001: A Space Oddyssey
That's All Right, Mama
You Don't Have To Say You Love Me
Love Me Tender
There Goes My Everything
Sweet Caroline
You've Lost That Lovin' Feelin'
Polk Salad Annie
Only Believe
How Great Thou Art
Introductions
Johnny B. Goode
The Wonder Of You
Something
Make The World Go Away
Love Me
One Night
Blue Suede Shoes
Hound Dog
Mystery Train/ Tiger Man
Love Me Tender
Can't Help Falling In Love
(Recorded live, January 27, 1971, Las Vegas, midnight show except the last 3 songs that was Recorded live, January 26, Las Vegas, Opening night)
Reviews
The show opens with a strong version of "That's all right" and without saying a word he starts with a good version of "You don't have to say you love me". Then he introduced himself as Frankie Avalon and continues with "Love me tender" with the usual kisses with the girls on stage. After this he says that he got the flu and announced he will make the rounds in the back and the balcony and say I'm a lying son af a bitch. Then he starts with a beautiful version of "There goes my everything" a song that he rarely perform on stage, and follows with a great version of "Sweet Caroline" and "You've lost that lovin' feelin'". Next a superb wild version of "Polk salad annie" and saying if you have a weight problem just do that... , then he starts with "Only believe" that he never done before on stage, and it's a great version too. Then he talks about that he did a gospel song in 1922 and won a grammy for it, and he attempt to start with "How great thou art" and stops with the song and ask where he is, and saying if I fall on these tables they sue the hell out of me and then continues with "How great thou art", with a lot of fooling in the beginning of the song. After this he introduced the members of his group and does a superb version of Johnny B. Goode and continue with "The wonder of you" and a good version of "Something" and then the rarely performed song "Make the world go away" . "Love me" and a great version of "One night" is next. Then he fools around with the opening of "Blue suede shoes". After this a short but rocking version of "Hound dog" which is also the last song from this show . Then from the January 26, 1971, opening show a good version of "Mystery train/ tiger man" and then he announced himself as Johnny Cash, then the second "Love me tender" on this CD and the last song of this CD is "Can't help falling in love" and has a little distortion, but that's the only little minus of this great CD. The sound quality is very good for a soundboard concert of 1971. I think every live fan should have this in their collection.