Black Diamond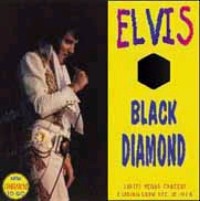 Label:
Generations 5001/5002
Content
(CD-1)
2001 theme
See See Rider
I Got A Woman/ Amen
Love Me
My Way (with false start)
Fairytale
You Gave Me A Mountain
Elvis talks with the audience
Jailhouse Rock
Little Sister
O Solo Mio/ It's Now Or Never
Tryin' To Get To You
Happy birthday Charlie Hodge
Blue Christmas
Softly As I Leave You
Are You Lonesome Tonight (laughing with the audience)
That's All Right, Mamma
Bridge Over Troubled Water
(CD-2)
Band introductions/ Early Morning Rain/ What'd I Say/ Johnny B. Goode
Drum solo (Ronnie Tutt)
Fender Bass solo (Jerry Scheff)
Piano solo (Tony Brown)
Electric piano solo (David Briggs)
Love Letters
Band Introductions/ Schooldays
Hurt
Such A Night
Sweet Caroline
Can't Help Falling In Love
Closing Vamp

(Bonussongs: Elvis a time in life)
If I Loved You
Baby What You Want Me To Do
Seperate Ways
Snowbird
Little Egypt
Burning Love
For The Good Times
Wearin' That Loved-on Look
Reviews
This 2-CD set features the complete last Las Vegas show from December 12th, 1976, it's from an audience recording, but it's sounds pretty good. The highlight is of course "Such a night", more details of this show later. The rest on the 2nd Disc has been filled with the unreleased Time Life bonus songs, but the sound is a little flat when comparing to the Time Life CD's.