Memories From Kalamazoo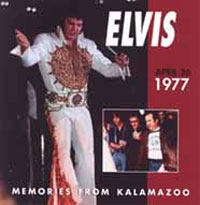 Label:
Vavavoom Records EP 0001
Content
Love Me
Fairytale
If You Love Me (Let Me Know)
You Gave Me A Mountain
Jailhouse Rock
O Solo Mio / It's Now Or Never
Big Boss Man
Heartbreak Hotel
Blue Suede Shoes
And I Love You So (false start / mike problems)
And I Love You So
My Way
Reviews
This new CD release "Memories of Kalamazoo" from the label Vavavoom gives us a far from complete soundboard recording of the Kalamazoo, Michigan, April 26, 1977 show. The show is not an inspiring one, I really can't think of one song that stood out. For the collectors this is another new one to add at their collection, but unfortunately very short. The running time is only 31:30 Min. The good news is that this CD is cheaper than the average Import CD.