The Las Vegas Stage Show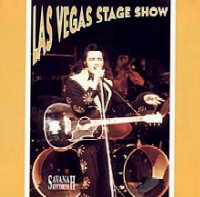 Label:
Savanah Records N770 EP
Show date:
1971/08/30 D.S.
Content
Also Sprach Zarathustra
That's All Right (Mama)
I Got A Woman / Amen
Proud Mary
Sweet Caroline
Polk Salad Annie
Johnny B. Goode
It's Impossible
Love Me
Blue Suede Shoes
Whole Lotta Shakin' Goin' On
Heartbreak Hotel
Teddy Bear / Don't Be Cruel
Hound Dog
Monologue
Love Me Tender
Band Introductions
I'm Leavin'
Bridge Over Troubled Water
Can't Help Falling In Love
Closing Theme
Fan Comments and Announcement
The Additional Bonus:
Such A Night (30/12/76)
Make The World Go Away (Las Vegas 8/8/73 MS)
What Now My Love (Las Vegas 23/2/73 CS)
Intro. Of Celebrity (Las Vegas 23/2/73C S)
Jailhouse Rock / Amen (Las Vegas 18/8/71 CS)
All Shook Up (Las Vegas 1/8/71 MS)
Can't Help Falling In Love (Los Angeles 14/9/70)
Reviews
Alone "Such a night" live is worth to have this CD.