America The Beautiful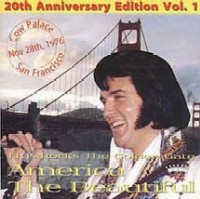 Label:
King Records 7696-2
Content
Also Sprach Zarathustra
See See Rider
I Got A Woman/ Amen
Love Me
If You Love Me (let me know)
You Gave Me A Mountain
Jailhouse Rock
It's Now Or Never
All Shook Up
Teddy Bear/ Don't Be Cruel
And I Love You So
Fever
America
Polk Salad Annie
Introductions
Early Morning Rain
What'd I Say
Johnny B. Goode
Love Letters
Hurt
Hound Dog
Can't Help Falling In Love
Closing Vamp
Reviews
Recorded live, November 28, 1976, San Francisco, except for the songs Hound Dog & Can't Help Falling In Love , that were recorded in August 30, 1976 in Tuscaloosa.

Here we have another live recording from American Bicentennial year,really very hard period for Elvis - he played in more different cities than any other year, despite his deteriorating health. This time the sound engineer taped first Elvis show in San Francisco Cow Palace since November 13, 1970.

Between October and December 1976 Elvis looked considerably better than in previous months, however he was still a bit heavier than he could be, and also his performances at that time were more inspired with very monotonous summer 76 shows in comparison, as he was in much better mood now - maybe it was connected with his new love, Ginger Alden. Also repertory was more variable and stronger as he sung songs like "Burning Love","Little Darlin'", "Steamroller Blues", "My Way", "Such A Night", "Bridge Over Troubled Water", "Hawaiian Wedding Song" and other songs omitted in summer, when he gave some of his worst concerts like in Charleston, Hampton Roads, Houston ... Elvis also wearing jumpsuits from 1974/1975 again and some new Bill Belew creations like "King Of Spades" or "Flame" suits.

The November tour began in Wednesday 24th in Reno, Nevada, and continued through Eugene and Portland, Oregon, second Eugene visit 27th and next were two "Frisco" gigs before great closing performance in Anaheim 30th (some nice footage exist !). And only two days later was Elvis already to perform in Las Vegas for next 10 days.

This CD is second release from "KING" label (20th Anniversary Edition Vol.1) and its cover artwork is much more professional than on their first CD "Running For President", in fact I must confess that is it one of the best designed import CDs I've ever seen ! It contains 8 page booklet with nice photo of Elvis in front, behind him you can see an evening picture of "Golden Gate" bridge. Apart this one, there are eight other photos of Elvis in his "King Of Spades" jumpsuit, my only (very small) critism is that all pictures are details from his shoulders up, any "Elvis in action" images, unfortunately, but it doesn't much, they're all of highest quality, colour and very clear. Also sleeve note and full details are included of the musicians and back up vocalists and ADD type of digital restoration. CD alone is lovely designed picture disc.

On disc you'll find the main part of San Francisco 28th November gig, but unfortunately last couple of songs probably wasn't recorded by soundman or it was later destroyed on mastertape, also first part of "And I Love You So" is missing. When I've heard it for the first time, I was quite disappointed with the sound quality, because here is constant background buzz (especially in quiet parts) and it could detract your listening pleasure, but otherwise sound is very well balanced and as producers states on cover, "Thanks to the binaural recording, the piano of Tony Brown has been put well in evidence" - they're right !

I wouldn't describe every song, some are very good, some could be better. The opening numbers are good and you can hear that Elvis voice is strong."Love Me" sounds O.K., "If You Love Me" and "Mountain" are both very well performed and real highlight of the first part of show is "It's Now Or Never", carefully done and with beautiful intro. Oldies aren't so bad as usual. For me personally , biggest disappointment of the whole CD is that "And I Love You So" isn't complete, I was very angry when I've heard it for the first time, because Elvis sang it so beautifully ! Before the title song, patriotic "America" , you can hear as Elvis thanks to someone in crowd for beautiful bouquet arranged in the form of an American Eagle -he received it backstage - and other dialogues with audience.

Band introduction is preceded with weird "Polk Salad Annie" ; personally I like these later (74-77) versions more than early 70's ones ; they're harder and more interesting from musical view. Last song from Nov. 28 is great "Hurt" and people from "KING" added good versions of "Hound Dog" & "I Can't Help Falling In Love" from Tuscaloosa 30.8.1976 show (whole 30.8. concert was released on "OLD TIMES THEY ARE NOT FORGOTTEN" by D.A.E in 1995 and highly recommended not only because its absolutely SUPERB sound quality, but also because great quality of the show itself). In fact, missing final tracks from "Frisco" are : "Hound Dog" , "Hawaiian Wedding Song" , "Blue Christmas" , "That's All Right, Mama" and "I Can't Help Falling In Love" (you can hear them if you posses audience recording of this show) , and apart irritating background buzz, this is only other weakness of this otherwise very good release. Also I should mentioned second San Francisco show from Nov. 29 where Elvis gave great renditions of "Bridge Over" and "Hawaiian Wedding Song" - it was released on "NATION'S ONLY ATOMIC POWERED SINGER" CD, but is it only fair quality audience recording, interesting only for hard collectors.

"AMERICA THE BEAUTIFUL" CD could be recommended to all "Elvis live" fans, is it good concert, not as good like Birmingham or Pittsburgh 76 , but I'd rate this attractively packaged CD high above 150 - 200 others.

Reviewed by Oto Meszaros, CZECH REPUBLIC.