Three new 10-inch vinyl re-issues of classic LPs on colored vinyl will be released soon: 'Elvis Golden Records' (Japan), 'Y Su Conjunto' (Chili) and 'Good Rockin' Tonight' (France).
Tracks Elvis Golden Records
Side A: I Need Your Love Tonight / Wear My Ring Around Your Neck / My Wish Came True / I Got Stung.
Side B: A Big Hunk O' Love / One Night / (Now And Then There's) A Fool Such As I / Doncha' Think It's Time.
Tracks Y Su Conjunto
Side A: Blue Suede Shoes / I'm Counting On You / I Got A Woman / One-Sided Love Affair / I Love You Because / Just Because.
Side B: Tutti Frutti / Tryin' To Get To You / I'm Gonna Sit Right Down And Cry (Over You) / I'll Never Let You Go / Blue Moon / Money Honey.
Tracks Good Rockin' Tonight
Side A: Good Rockin' Tonight / I Don't Care, If the Sun Don't Shine / That's All Right / Blue Moon Of Kentucky.
Side B: Baby Let-s Play House / I'm Left, You're Right, She's Gone / Milkcow Blues Boogie / You're A Heartbreaker.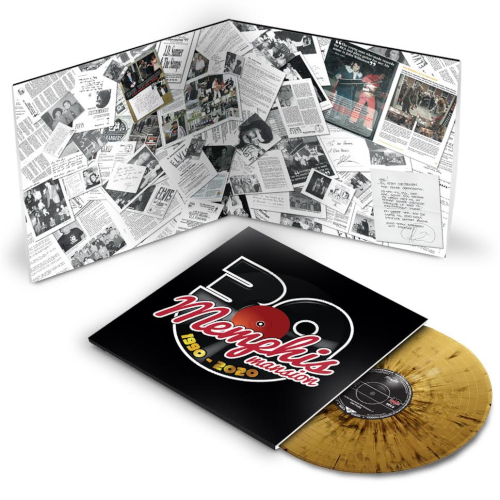 The Danish Memphis Mansion announced the release of a 30th Anniversary LP to celebrate the 30th anniversary of the Elvis News Denmark fan club. The LP, limited to 300 copies, contains remastered 12 songs selected by fan club members (gladly all PD songs in the EU). It comes on gold colored vinyl with black spatters, housed in a gatefold cover. The release-date is in December 2020.
Tracklisting
Ready Teddy / Don't Be Cruel / Lawny Miss Clawdy / Wear My Ring Around Your Neck / One Night / Jailhouse Rock / All Shook Up / Treat Me Nice / I Need Your Love Tonight / Young And Beautiful / Paralized / Love Me Tender.