The Elvis One label announced two new CDs; "Sincerely Elvis (Monophonic Sound Edition)" and "Elvis' Christmas Album (original album series)".
From the press-release:
Sincerely Elvis - presented as an original album from the sixties! - A great collection of songs released on 5 hit singles and 1 EP in 1961/1962. Now for the first time on cd in original mono! Plus outtakes from "Wild In The Country" - and an intimate unedited interview from 1962! Also a 12 pages booklet!
Elvis' Christmas Album (Original Album Series)
The 2014 edition of "Elvis' Christmas Album" by the Elvis One label was sold out fast. Now we re-release the Elvis One edition of Elvis' Christmas Album as a single (budget) disc and with different artwork, including the 1959 cover of this wonderful and historic album! Including a 12 pages booklet!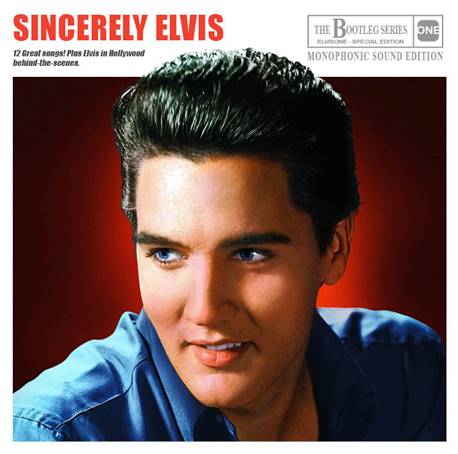 Tracks Sincerely Elvis:
The Mono Masters - Side A
01 Surrender 1:54 02 Lonely Man 2:43 03 Flaming Star 2:28 04 Summer Kisses, Winter Tears 2:20 05 I Feel So Bad 2:54 06 Wild In The Country 1:53
The Mono Masters - Side B
07 (Marie's The Name) His Latest Flame 2:07 08 Little Sister 2:32 09 Good Luck Charm 2:26 10 Anything That's Part Of You 2:05 11 She's Not You 2:10 12 Just Tell Her Jim Said Hello 1:57
Elvis In Hollywood - Behind The Scenes
13 Wild In The Country (take 3, 4, 5 & 6) 2:15 14 Wild In The Country (take 7) 1:08 15 Wild In The Country (take 8) 1:42 16 Wild In The Country (take 9) 1:04 17 Wild In The Country (take 15, 17 & 18) 1:40 18 Wild In The Country (master with count-in) 1:55
Elvis In Hollywood - Interview
19 Intimate interview with Elvis (unedited) 38:28 (August 17, 1962 - Interviewer: Lloyd Shearer)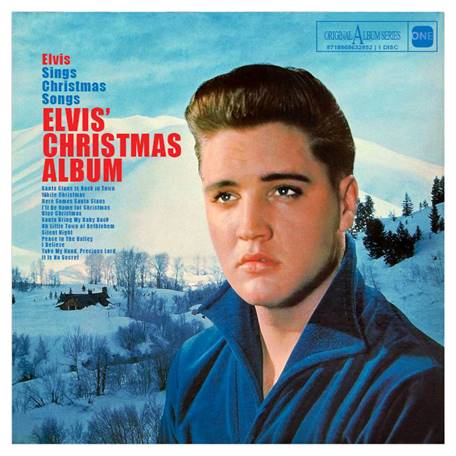 Tracks Elvis' Christmas Album (original album series):
The Original Mono Album
1. Santa Claus Is Back In Town 2. White Christmas 3. Here Comes Santa Claus (Right Down Santa Claus Lane) 4. I'll Be Home For Christmas 5. Blue Christmas 6. Santa Bring My Baby Back (To Me) 7. Oh Little Town Of Bethlehem 8. Silent Night 9. (There'll Be) Peace In The Valley (For Me) 10. I Believe 11. Take My Hand, Precious Lord 12. It Is No Secret (What God Can Do)
Inside Elvis Christmas Album
13. White Christmas (Master with studio banter & count-in) 14. It Is No Secret (What God Can Do) (Take 4) 15. (There'll Be) Peace In The Valley (For Me) (Take 5, 6, 8 & master) 16. It Is No Secret (What God Can Do) (Take 6, 7, 8 & master) 17. It Is No Secret (What God Can Do) (Take 9, 10, 11 & 12) 18. I'll Be Home For Christmas (Mono version with echo from acetate) 19. Oh Little Town Of Bethlehem (Mono version with echo from acetate) 20. Special Message from Elvis / I'll Be Home For Christmas (Original version used for Elvis' special Christmas program, december 3, 1967)
Bonus Tracks
21. Peace In The Valley (Live version) 22. Elvis' Christmas Album commercial (1957)
Stereo Mixes And Other Versions
All these versions were officially released through the years. 23. Blue Christmas (Original electronic stereo version) 24. Silent Night (Without piano intro) 25. White Christmas (Repaired intro without finger-snap) 26. I'll Be Home For Christmas (Remastered with stereo effect) 27. Silent Night (Remastered with stereo effect) 28. Blue Christmas (Remastered with stereo effect) 29. White Christmas (Remastered with stereo effect) 30. Special Message from Elvis / Silent Night (Album version)