After a well deserved holiday we are doing a quick round-up of what happened the last couple of weeks. The bootlegs are presented separately, here is an overview of the remaining news.
In the past two days, the Music Icons auction held at the Hard Rock Cafe in New York. A glove of Michael Jackson was sold for nearly $47,000. A vest of Jimi Hendrix for $ 61,000. The electric guitar Maton MS500 Master Sound, once owned by George Harrison of the Beatles, changed from owner for $ 485,000.
Yesterday all the Elvis related items were sold, like the Louisiana Hayride Contract ($32,500), Certificate of Marriage ($32,500), Elvis' guitar from 1975, jewelery, remote controls from the Graceland Gates, and much much more.
High prices for the tour bus JD Sumner and The Stamps($263,000 inclusive buyer's premium), and Stutz Blackhawk Coupe purchased by Elvis on September 10, 1971. The highest bid on the car was just $ 290,000, and that's the reason why the car isn't sold on the auction, because it did not meet the reserve of $ 400,000.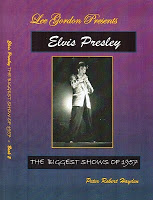 Lee Gordon Presents Elvis Presley The Biggest Shows of 1957 - Book 2. The Australian researcher and author, Bob Hayden, has completed the second volume of his trilogy examining Elvis' series of concerts promoted by American promoter Lee Gordon in the USA and Canada in 1957. Due for release on May 20.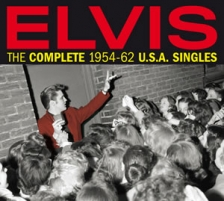 Valentine Records released a 4CD-set "Elvis - The Complete 1954-62: U.S.A. Singles".
Tracklisting
CD 1:
That´s All Right Mama - Blue Moon Of Kentucky - Good Rockin Tonight - I Don t Care If The Sun Don´t Shine - Milkcow Blues Boogie - You´re A Heartbreaker - Baby, Let´s Play House - I´m Left, You´re Right, She´s Gone - Mystery Train - I Forgot To Remember To Forget - Heartbreak Hotel - I Was The One - I Want You, I Need You, I Love You - My Baby Left Me - Hound Dog - Don´t Be Cruel - Blue Suede Shoes - Tutti Frutti - I Got A Woman - I´m Counting On You - I´ll Never Let You Go (Little Darlin´) - I´m Gonna Sit Right Down And Cry (Over You) - Tryin´ To Get To You - I Love You Because - Blue Moon
CD 2:
Just Because - Money Honey - One-Sided Love Affair - Lawdy Miss Clawdy - Shake Rattle And Roll - Love Me Tender - Anyway You Want Me (That´s How I Will Be) - Playing For Keeps - Too Much - All Shook Up - That´s When Your Heartaches Begin - (Let Me Be Your) Teddy Bear - Loving You - Jailhouse Rock - Treat Me Nice - Don´t - I Beg Of You - Wear My Ring Around Your Neck - Doncha Think It s Time - Hard Headed Woman - Don´t Ask Me Why - One Night - I Got Stung - I Need Your Love Tonight - (Now And Then There s) A Fool Such As I
CD 3:
Big Hunk O love - My Wish Came True - Stuck On You - Fame And Fortune - It´s Now Or Never - A Mess Of Blues - Are You Lonesome Tonight? - I Gotta Know - Surrender - Lonely Man - I Feel So Bad - Wild In The Country - (Marie´s The Name) His Latest Flame - Little Sister - Can´t Help Falling In Love - Rock-A-Hula Baby - Good Luck Charm - Anything That´s Part Of You - She´s Not You - Just Tell Her Jim Said Hello - Return To Sender - Where Do You Come From - Rip It Up - Love Me - When My Blue Moon Turns To Gold Again
CD 4:
(There´ll Be) Peace In The Valley (For Me) - It´s No Secret (What God Can Do) - I Believe - Take My Hand, Precious Lord - I Need You So - Have I Told You Lately That I Love You - Blueberry Hill - Is It So Strange - Flaming Star - Summer Kisses, Winter Tears - Follow That Dream - Angel - What A Wonderful Life - I´m Not The Marrying Kind - King Of The Whole Wide World - This Is Living - Riding The Rainbow - Home Is Where The Heart Is - I Got Lucky - A Whistling Tune - Long Tall Sally - First In Line - Paralyzed - How´s The World Treating You - How Do You Think I Feel