RCA (Sony) will release Bossa Nova Baby, The Ultimate Elvis Party Album on CD on June 3.
Tracklisting
1. Bossa Nova Baby (Viva Mix)
2. A Little Less Conversation - JXL Radio Edit Remix
3. Burning Love (Viva Mix)
4. (Let's Have A) Party
5. Jailhouse Rock
6. Guitar Man
7. King Creole (Viva Mix)
8. Viva Las Vegas
9. A Big Hunk O' Love
10. Rubberneckin' - Paul Oakenfold Remix
11. Little Sister
12. Good Rockin' Tonight
13. Got A Lot O' Livin' To Do!
14. Down In The Alley
15. Suspicious Minds
Elvis World Japan mentions a second (extended version) with a different cover.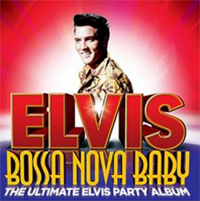 Tracklisting
1. Bossa Nova Baby [Viva Mix]
2. A Little Less Conversation [JXL Radio Edit Remix]
3. Burning Love [Viva Mix]
4. (Let's Have A) Party
5. Jailhouse Rock
6. Guitar Man
7. King Creole [Viva Mix]
8. Viva Las Vegas
9. What a Wonderful Life
10. A Big Hunk O' Love
11. FollowThat Dream
12. Rubberneckin' [Paul Oakenfold Remix Radio Edit]
13. Got a Lot O' Livin' to Do! [Remastered]
14. Good Rockin' Tonight
15. Little Sister
16. Girl Happy
17. Stop, Look and Listen
18. Adam and Evil
19. Down in the Alley
20. Big Boss Man
21. Too MuchMonkey Business
22. Patch It Up
23. Mystery Train Tiger Man
24. Suspicious Minds