Throughout 2013, Elvis Presley's Graceland in Memphis will be honoring the King of Rock 'n' Roll with two new exhibits exploring various sides of Presley's career including films, music, touring and more.
Elvis' Hawaii: Concerts, Movies and More!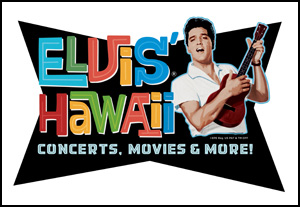 "Elvis' Hawaii: Concerts, Movies and More!" will open for the public in January in conjunction with the Elvis 2013 Birthday Celebration on January 8. The exhibit celebrates Elvis' love for Hawaii and the 40th anniversary of "Aloha from Hawaii." Guests will be able to experience Elvis' Hawaii and see why it was one of his favorite places to vacation. The exhibit also features both of the American Eagle jumpsuits he wore in January of 1973. Other artifacts in the exhibit include items such as the gold lamé jacket he wore in his first Hawaiian concert in 1957, one of the tiki mugs that Col. Parker had made for promotion of "Blue Hawaii," the crown and pendant given to Elvis during the "Aloha from Hawaii" concert, movie memorabilia from films "Blue Hawaii" and "Paradise, Hawaiian-Style," footage from his "Aloha from Hawaii" television special, rarely-seen photos, and never-before-seen footage of Elvis' first Hawaiian concert from the Graceland archives and more.
Elvis: Live from Vegas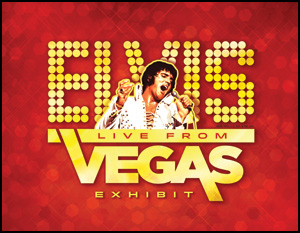 "Elvis: Live from Vegas" opens on March 1 and will allow guests to experience Las Vegas through the eyes of Elvis Presley. The exhibit will feature part of the 30-foot marquee Col. Parker had made to stand outside the New Frontier Hotel in 1957 and the first jumpsuit worn on-stage by Elvis in 1970. Other jumpsuits featured in the exhibit include Elvis' Leather and Chains suit worn in August of 1970, Elvis' three-piece Spanish Flower suit worn in 1972, and Elvis' I Got Lucky jumpsuit that was worn in 1970. From the first time the King of Rock 'n' roll stepped foot on-stage in Vegas through his triumphant return in 1969 and beyond, this exhibit captures all of the excitement and energy that is Elvis in Las Vegas.