Flaming Star
June 21, 2012

| Video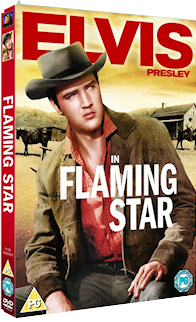 In July Flaming Star will be re-re-re-re-released on DVD.
Source:
Elvis Club Berlin
EJF
wrote on
June 21, 2012
This is one of a handful Elvis films I would gladly buy on Blu-ray, along with King Creole, TTWII and possibly Loving You. I already have Jailhouse Rock, Viva Las Vegas and On Tour on Blu-ray and I must say that both picture and audio quality is very impressive. So how about it whoever own the rights?
The film to video transfer used for "Flaming Star" in the United states, is awful. Just listen to the hollow sound ! "Clambake" is another one, that received a horrible video transfer, the picture quality is awful !The film companies, need to go back and remaster the films, in picture and sound. We want the Elvis films in HD ,remastered and remixed and in Blu Ray editions. Why bother releasing these films in the old formats?