We entered the building again and here is what you might have missed the last couple of weeks:
Bill Campbell
William Campbell, co-actor in Love Me Tender, died on April 28, aged 87.
Welcome To The Jungle - Hurt
Venus Productions just released a new volume in the Welcome to The Jungle series titled Hurt. As usual, this CD offers you some spectacular recordings from the famous Jungle Room sessions, including some never heard before outtakes.
Tracks :
01- I'll Never Fall In Love Again Takes 1,2 5:14 ; 02- I'll Never Fall In Love Again Take 3 4:07 ; 03-I'll Never Fall In Love Again Takes 4,5 3:58 ; 04- I'll Never Fall In Love Again Undubbed Master 3:40 ; 05- I'll Never Fall In Love Again Master 3:44 06- For The Heart Take 1 3:46 ; 07- For The Heart Takes 2,3 4:15 ; 08- For The Heart Take 4 4:05 ; 09- For The Heart False starts,Take 5 4:30 ; 10- For The Heart Undubbed Master 3:26 ; 11- For The Heart Master 3:25 ; 12- Hurt Take 1 1:16 ; 13- Hurt Take 2 2:19 ; 14- Hurt False starts, Take 3 2:47 ; 15- Hurt Take 4 1:16 ; 16- Hurt Take 5 2:11 ; 17- Hurt Take 6 0:46 ; 18- Hurt Undubbed Master 2:10 ; 19- Hurt remixed 2:07 ; 20- Hurt Master 2:10 ; 21- Hurt Take 69 2:20
The King Remembered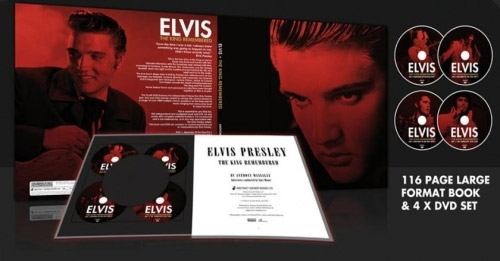 New and soon available! Intimate interviews with the musicians who worked with Elvis, including DJ Fontana, Scotty Moore, The Jordanaires and The Stamps Quartet, shed new light on the creative process behind the hits and what went on in the studio. The true back stage story is told by Presley tour veterans such as tour manager Joe Esposito, musical director and conductor Joe Guercio and bodyguard Sam Thompson. Loanne Parker, widow of Colonel Tom Parker reveals the depth of feeling between The King and The Colonel. Never before have such personal recollections been bought together on film or in print. The fourth DVD features the independent interactive Elvis Presley quiz. Use your DVD remote control to choose the correct answer to a range of over 1000 multiple choice questions on the King and his music ranging from newcomer level to super fan level. The package also contains a +100 page hard cover book.
DVD 1 - Memories Of The King Part 1
DVD 2 - Memories Of The King Part 2
DVD 3 - Memories Of The King Part 3
DVD 4 - The Interactive Elvis Quiz
Finally: Elvis, The Beauty Queen and Me II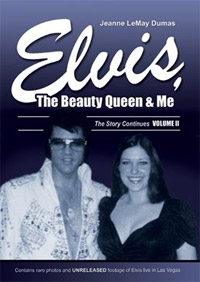 This is without a doubt the release that is announced a long time ago and postponed several times. A year ago, the sequel of the docu was announced, but is since today that we can provide this DVD. The majority of this DVD was filmed during Jeanne LeMay Dumas's trip to the UK in 2008. She was captured talking candidly about her time with Elvis at Graceland, on tour and in Vegas. She openly discusses how she was able to enjoy a close relationship with Elvis through her friendship with Linda Thompson, how she became a secretary at Graceland and what went on during those years. Her memories of those times are funny, fascinating and extremely riveting. Jeanne is a great talker and her warmth comes across beautifully in this 60-minute programme.
We are sure that fans will also enjoy some stunning-quality amateur footage from 1970 and 1971, too.
Elvis Files Gets 7 Volumes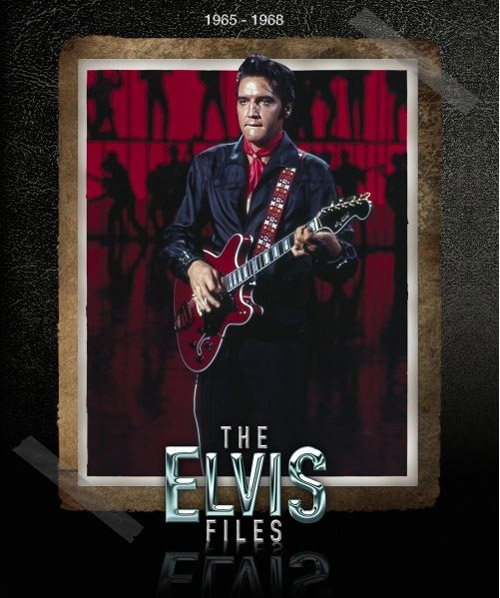 Like mentioned earlier, the release for the Elvis Files Vol 4 issue is postponed. The new date is now pinned to August 16. Author Erik Lorentzen recently found a huge lot of unseen pictures and would love to add these to the book. The planned period for this volume was 1965-1969, but due to the huge amount of material, it will cover 1965-1968. This also means that the planned 6 volumes will be changed to 7!! At least...if Lorentzen does not find another lot of unseen pictures! The release of 'Elvis, King of Hawaii' is still planned to come out within 2 weeks.
Rock, Sex And Roll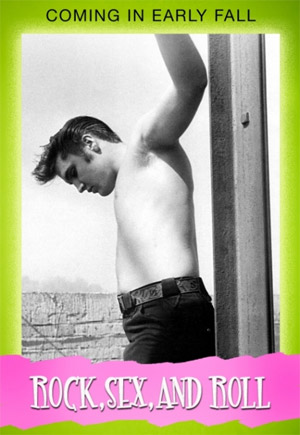 Joe Tunzi's JAT Publishing has just officially announced the release of the book "Rock, Sex and Roll", coming in early fall 2011, on their website. The book had been announced before, but this time the cover is shown too. Great shot of the King at the peak of his Fifties carreer. No details about pictures, pages or retail prices are known at this point.
Elvis Business Shows A 22% Drop In Revenue
American Idol and So You Think You Can Dance are bringing in the cash for CKX. Elvis Presley and Muhammad Ali? Not so much. CKX reported Monday that its revenue in the first quarter dropped 20% to $53 million, but operating income rose to $9 million compared with a $3 million loss a year ago. The reversal of fortune on the operating-income line is credited to 19 Entertainment, the business CKX bought from Simon Fuller for $200 million in 2005.
19 Entertainment went through a restructuring, shedding unprofitable businesses, and a partnership with Sony Music Entertainment came to an end. As a result, 19 Entertainment took in 20% less revenue to $43 million in the quarter, but its operating income soared 385% to $14 million.
American Idol as a standalone business posted operating income of $13.6 million – same as CKX overall – though that represents a 17 percent fall for the hit TV show. The lower operating income is presumably due to host Ryan Seacrest's rising salary, as costs for the show jumped 17 percent, mirroring the decline in operating income.
According to a regulatory filing Monday, CKX is on the hook for $30 million of Seacrest's $45 million compensation package that runs three seasons and expires in December 2012. 19 Entertainment's American Idol show is in its 10th season, and the eighth season of So You Think You Can Dance begins May 26.
CKX also owns rights to the names, images and likenesses of Ali and Presley as well as to the operations of Graceland. The Presley business showed a 22% drop in revenue to $10 million and an operating loss of $400,000 compared with a loss of $1.2 million last year. CKX blamed the falling revenue on the closing of the Elvis in Concert series in Europe.
The Ali business showed unchanged revenue of $900,000 and operating income that dropped 34% to $300,000.
A couple of days later this was a headline:
CKx Inc., the parent company of Elvis Presley Enterprises since 2005, will now be in the hands of a New York private equity firm. CKx announced Tuesday it is being acquired by Apollo Global Management LLC with financing of the $509 million deal by Goldman Sachs Bank USA. The sale includes not only EPE but the production company for the television show American Idol and ownership of the image of Muhammad Ali, which are also under the CKx umbrella.
Apollo was co-founded in 1990 by Leon Black, who is chairman of the board and CEO, and Joshua Harris and Marc Rowan, senior managing directors. Black, Harris and Rowan founded Apollo after leaving Drexel Burham Lambert Inc. where Black was managing director and head of the mergers and acquisitions group that included Harris and Rowan.
Dolores Fuller
Dolores Fuller, co-author of several Elvis-songs died on May 9, aged 88. A friendship with producer Hal Wallis led to her co-writing (with composer Ben Weisman) "Rock-a-Hula Baby" for Presley's 1961 movie "Blue Hawaii." She went on to co-write other songs for Presley movies such as "Kid Galahad," "It Happened at the World's Fair," "Fun in Acapulco" and "Spi