Last Friday this release by a new label, Venus Productions, was stuffed in my mailbox. Can it give me a Christmas feeling Today, in May?
Design
The design is good. The booklet can be read from two sides: From the back for info about the Today-sessions and from the front for the 1971 Christmas-session. Both are decorated tastefully and the liner notes give an interesting read (I love the quote about Brian Wilson). CD red contains the Christmas stuff, and CD blue the Today material. All together it is a tasteful, well designed package.
Content
If there's one thing I don't like it's that Christmas feeling. Why fight and argue 360 plus days and be nice and friendly those two days in December? A bit hypocrite… So it wouldn't be hard to please me, since I'm nice and friendly the whole year… Still it's that other thing I don't like about Christmas: green decorations (green is absolutely not my favourite colour) and bells… way too much bells. Therefore I don't like Christmas music in general (thankfully the CD is red!). So to be short: I gave the CD a spin, enjoyed I'll Be Home On Christmas Day (mainly the bluesy version), gave Merry Christmas Baby an extra spin (a song I can enjoy every day) and hummed along with the throwaway Winter Wonderland. In other words: this CD is not exactly my piece of cake. I have to admit that the sound is very good. The songs taken from acetate are a little less, they sound a bit compressed. Still they are that good that I will take this version of Merry Christmas Baby to put on my mobile and another favourites CD for use in the car.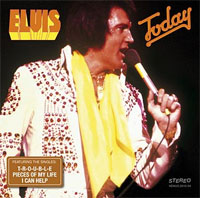 A completely different story is the blue CD. The original Today album was among my favourite 70s albums (if not THE favourite). The only song I didn't like was Bringin' It Back, since it was too smooth. Obviously the overdubs were the cause of that, since the undubbed version on this disc sounds way, way better in my ears. Not only the before mentioned song suffers from the dubs. Fairytale for instance sounds fresher than the wall of sound (which I did like anyway) on the original album. I enjoyed this disc from the first to the last minute and the fact that it kept Caro Emerald from my player for more than two days says enough… This version of Today was a great accompaniment for the finishing touch of the ElvisNews-redesign.
Conclusion
Although I was in doubt whether to order it or not after I heard about this release – being afraid for more of the same – I am glad I did after all! The Christmas CD is not exactly my piece of cake (but I knew that beforehand), but my bet on the second CD turned out to be a winner. It was a pretty long time ago since I changed my personal top 5 for the Import Top 40…
Tracklist CD red
1-I'll Be Home On Christmas Day Take 6 4:03 ; 2- Holly Leaves And Christmas Trees Take 3 2:30 ; 3- On A Snowy Christmas Night undubbed master * 2:27 ; 4- The Wonderful World Of Christmas undubbed master * 1:59 ; 5- Silver Bells Take 1 3:05 ; 6- I'll Be Home On Christmas Day Takes 1-2 2:37 ; 7- The Lord's Prayer 2:36 ; 8- Holly Leaves And Christmas Trees Takes 1-2 3:04 ; 9- The First Noel undubbed master * 2:12 ; 10- Winter Wonderland Take 7 2:33 ; 11- I'll Be Home On Christmas Day Takes 5,7,3 6:56 ; 12- Merry Christmas Baby Fs, undubbed master * 7:55 ; 13- If I Get Home On Christmas Day undubbed master * 2:52 ; 14- Silver Bells undubbed master * 2:28 ; 15- Holly Leaves And Christmas Trees Takes 5,6,7,4 3:53 ; 16- Winter Wonderland undubbed master * 2:19 ; 17- It Won't Seem Like Christmas Without You undubbed master * 2:40 ; 18- I'll Be Home On Christmas Day undubbed master * 3:48 ; 19-Holly Leaves And Christmas Trees undubbed master * 2:21 ; 20- O Come, All Ye Faithful undubbed master * 2:58 ; 21- I'll Be Home On Christmas Day Take 4 5:06 ; 22- Silver Bells Fs,Tk2 (original session recording),Tk3 (Fs) 5:07 * from acetate
Tracklist CD Blue
1 - T-R-O-U-B-LE Take 4 3:10 ; 2- Green Green Grass Of Home Fs, Take 1 4:21 ; 3- Fairytale Take 3 3:37 ; 4- Bringing It Back Takes 2,3 3:28; 5- Susan When She Tried Take 6 2:55 ; 6- I Can Help Fs, Take 2 5:11 ; 7- And I Love You So Take 5 3:51 ; 8- Green Green Grass Of Home Takes 2,3 4:23 ; 9- Woman Without Love Take 1 3:44 ; 10- Tiger Man session jam 3:15 ; 11- Bringing It Back Take 4 3:08 ; 12- And I Love You So Take 1 3:56 ; 13- Shake A Hand Take 3 4:00 ; 14- Green Green Grass Of Home Takes 4,5 4:15 ; 15- Pieces Of My Life Takes 4 3:57 ; 16- Bringing It Back Take 1 3:18