We found this commercial on FECC:
Christmas is coming early in 2010. Soon available from Venus Productions a new double CD set titled Christmas Today. The red CD features Nashville recordings from May 1971 with various out-takes and undubbed masters taken from great quality acetates. This inspiring music will move you and bring you back into the Holiday Season mood. The blue CD may sound unessential to most of you, but we predict it will become one your favorite CDs straight away. The recording sessions for the album Elvis Today took place at RCA's studio on Sunset Boulevard, and Elvis was really up for it and his lively enthusiasm can be heard throughout the sessions.
Besides the great sound quality of both CDs, the blue one contains some unheard highlights. By example the master take of '' Fairytale '' runs about 40 seconds longer, the one from '' Susan When She Tried '' runs a bit longer with his original ending, plus there are several bits and pieces that will make you value this CD more than you think. This Holiday delight will be released in a standard jewel case with a 16 page booklet. The booklet will feature two front/back covers you may use according to your taste or season. Get a copy and bring it back home as it's Christmas Today.
Tracklist CD red
1-I'll Be Home On Christmas Day Take 6 4:03 ; 2- Holly Leaves And Christmas Trees Take 3 2:30 ; 3- On A Snowy Christmas Night undubbed master * 2:27 ; 4- The Wonderful World Of Christmas undubbed master * 1:59 ; 5- Silver Bells Take 1 3:05 ; 6- I'll Be Home On Christmas Day Takes 1-2 2:37 ; 7- The Lord's Prayer 2:36 ; 8- Holly Leaves And Christmas Trees Takes 1-2 3:04 ; 9- The First Noel undubbed master * 2:12 ; 10- Winter Wonderland Take 7 2:33 ; 11- I'll Be Home On Christmas Day Takes 5,7,3 6:56 ; 12- Merry Christmas Baby Fs, undubbed master * 7:55 ; 13- If I Get Home On Christmas Day undubbed master * 2:52 ; 14- Silver Bells undubbed master * 2:28 ; 15- Holly Leaves And Christmas Trees Takes 5,6,7,4 3:53 ; 16- Winter Wonderland undubbed master * 2:19 ; 17- It Won't Seem Like Christmas Without You undubbed master * 2:40 ; 18- I'll Be Home On Christmas Day undubbed master * 3:48 ; 19-Holly Leaves And Christmas Trees undubbed master * 2:21 ; 20- O Come, All Ye Faithful undubbed master * 2:58 ; 21- I'll Be Home On Christmas Day Take 4 5:06 ; 22- Silver Bells Fs,Tk2 (original session recording),Tk3 (Fs) 5:07 * from acetate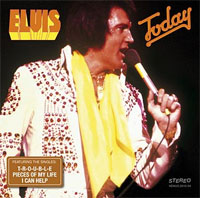 Tracklist CD Blue
1 - T-R-O-U-B-LE Take 4 3:10 ; 2- Green Green Grass Of Home Fs, Take 1 4:21 ; 3- Fairytale Take 3 3:37 ; 4- Bringing It Back Takes 2,3 3:28; 5- Susan When She Tried Take 6 2:55 ; 6- I Can Help Fs, Take 2 5:11 ; 7- And I Love You So Take 5 3:51 ; 8- Green Green Grass Of Home Takes 2,3 4:23 ; 9- Woman Without Love Take 1 3:44 ; 10- Tiger Man session jam 3:15 ; 11- Bringing It Back Take 4 3:08 ; 12- And I Love You So Take 1 3:56 ; 13- Shake A Hand Take 3 4:00 ; 14- Green Green Grass Of Home Takes 4,5 4:15 ; 15- Pieces Of My Life Takes 4 3:57 ; 16- Bringing It Back Take 1 3:18