Here is the first official indepth look into the long awaited and anticipated Viva Elvis which will run for 10 years at the Aria at City Center.
The opening of Cirque du Soleil's Viva ELVIS is predictable, nostalgic and – if you're familiar with Elvis Presley's fabled Vegas years – utterly emotional.
A chorus line of dancers, their backs to the empty seats of Aria Resort's Elvis Theater, face a three-story black curtain spotted with Sun Records 45s. Booming over hundreds of hidden speakers is Richard Strauss' Thus Spake Zarathustra, famous for its anthemic roles in both 2001: A Space Odyssey and Presley's '70s stage shows.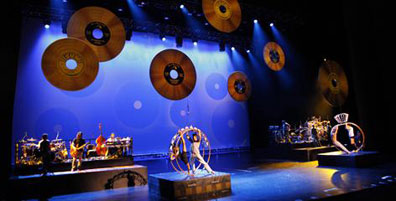 As the music swells, the curtain falls and 30-plus cast members start dancing frenetically as vintage Elvis clips play on a huge screen overhead. Thus kicks off yet another rehearsal of a spectacle – opening Dec. 18 and scheduled for a 10-year run – that downplays Cirque's circus roots in favor of lavish dance-fueled production numbers.
Not that those trademark acrobatic feats are gone.
"I'd never played with acrobatics in my work before, but I made sure they were a part of this show, because (Cirque) fans expect that," says Viva ELVIS director Vincent Paterson, whose choreography résumé includes dancing opposite Michael Jackson in the Beat It video.
"It was fun to see how we could incorporate that (circus) element into a show about Elvis," he says. One way: A trampoline routine references Presley's love of high-flying comic-book superheroes.
Viva ELVIS breaks the performer's life down into a few key phases, with sets to match. Among them are a fairgrounds scene invoking Elvis' playful side, a 21st-century Jailhouse Rockset in which some performers dance upside down, and a Vegas-era extravagance that includes giant Elvis statues doubling as columns.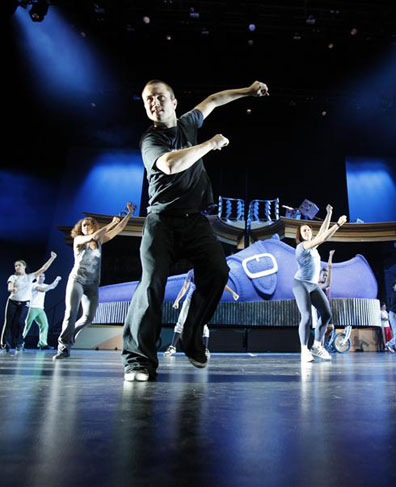 Wild sets by rock tour veteran Mark Fisher aside, the music is the star here. Which means Elvis. The late singer's vocals are layered over a live band, which takes some liberties with the catalog though in a playful JXLLittle Less Conversation remix way.
But there is one unenviable challenge Viva ELVIS does face: creating a live show compelling enough to pull theater-goers' eyes away from the gyrating, joking and always-youthful icon on those oversized screens.
"We are up to that challenge," says executive producer Stephane Mongeau. "Elvis has incredible charisma, still. But we hope what we have here will only add to his legend. After all, Las Vegas is his temple."