Here's a release I've really been looking forward to: Black Angels in Vegas. Everybody knows the funky Black Angels story by now, so let's not go into that. The reason I couldn't wait to get this particular 2CD set, was because of the "complete package deal": two cd's plus an 85 pages booklet. And was it worth the wait? O my golly, yes.
There used to be a time that I would save my Sunday's payment for albums like "O Happy Day" where you weren't even sure if it was Elvis you were listening to, or Donald Duck. Still, back in those days that was all we had. Today the bootlegging industry spoils us with topp quality releases along the lines of this set.
Design
The booklet comes in seven chapters: introduction, 1974, the Summer Festival, the Concert, Karate ("Otagai ni Rei"), Tourdates and Tracklisting. The pictures in the book(let) range from "good" to "crisp clear" with just a few "fairs", although we haven't discovered any unseen pics – but then again, it's been 35 years since August 1974 and most likely not too many unknown pictures of that era will surface. On the other hand, the producers behind Venus Productions obviously took great pride in their work, as all the pictures match the text in the booklet.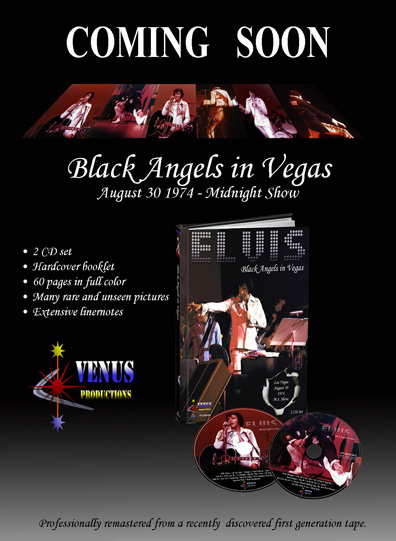 Did we find new information? Apart from the fact that 1974 marked the first time that Elvis and his band stayed in separate hotels, no: we knew about Elvis' love for karate, his mood changes in the second part of 1974, the press reactions, the song choices, Colonel's greedy deals and the long, often strange – but never embarrassing - dialogues. But again: what new is there to discover after almost four decades, right? But we enjoyed reading the comments, and we do agree with most of the side notes, like: While Elvis often gets criticized for this kind of monologues, no one is criticizing Bob Dylan for his sometimes chaotic concerts during the 80s or Bono Vox for his lengthy monologues from U2. Sometimes you get the feeling that because it's Elvis, it seems to be normal to bash him for all the things happened after the Aloha Special. Some might complain about the talkative mood Elvis is in. They should remember that this was a live show, meant for people in the audience. It was not meant for someone listening at home.
Content
But, on to the main thing: the show: the August 30 1974 show must be one of the loosest, most relaxed and most unpredictable shows Elvis did up to then. The interaction with the audience is obvious, as he seems to talk to the entire audience one time, and then to individual people the other. He jokes with his musicians – "JD's the world's lowest bass singer… he's the original deep throat" – talks to Charlie, turns to the Band – "they're the finest paid musicians in the world and they blew it" – introduces Dean Nichopolous and treats him to his favorite song "Suspicious Minds", tells a hacker to "fuck you" and basically doesn't care if the show is taped or not. He probably didn't even know, let alone paid attention to it. The show has been released before, so I guess the content and tracklisting are well know.
The quality of both CD's is top notch. A pleasure to listen to, on condition that you like Elvis in his "talkative mood". Was this a great show? Yes – no doubt. Even on stage in Vegas for 2200 people, Elvis was more an entertainer then any modern singer could ever be. Was it his best? Far from, because it's obvious that Elvis is "on cloud nine" so to speak and the unpredictiveness of the show must have bothered his musicians, and without a doubt the Hilton management.
Conclusion
All in all: this was Elvis in 1974, there's no way of changing history. Either you like those shows, or you don't. We do, which probably explains this positive review. And if you don't, what's there to loose with this quality package? Bring on Volume II, boys.
Tracklisting

2001 Theme / See See Rider / Dialogue / I Got A Woman - Amen / Love Me / If You Love Me / It's Midnight / Big Boss Man / Fever / All Shook Up / Softly As I Leave You / Hound Dog / American Trilogy / Elvis introduces Dean Nichopoulos / Suspicious Minds / Band Introductions / Karate Monologue / If You Talk In Your Sleep / Elvis introduces Kang Rhee / Karate Dialogue / Help Me / Let Me Be There (+ reprise) / How Great Thou Art (+ reprise) / Hawaiian Wedding Song / You Gave Me A Mountain / Can't Help Falling In Love / Closing Vamp