The local (Cataluña) Spanish newspaper La Vanguardia and Sony / BMG Spain will release twenty of Elvis' best albums in a new series. Each edition comes with an illustrated 30 pages hard-cover book containing the CD discography and biography of Elvis Presley.

For each delivery the book is divided into the following chapters:

Recording sessions: to realize all the details that accompanied the creation of each disc.
The musicians: all those involved with relevant biographical information of each.
The songs: the commentary, one by one, all the songs on the disc, its authors and peculiarities of the interpretation of Elvis.
The impact: the influence of other artists on record, its position in the charts and critical issue.

And in parallel the Elvis biography: How was your life, who were his friends and family, what other music was inspired, how to align their private lives to the world of entertainment.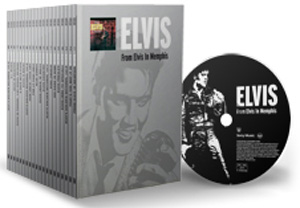 The first disc is the "From Elvis In Memphis" with the original tracklisting album released in 1969 remastered from the original recordings and is accompanied by a hardcover book luxury of 30 pages with information and photographs in color and black/white. First delivery: Saturday January 31 and Sunday February 1 (2009).
The list of the discs for 20 weekends delivered "La Vanguardia" is as follows (in order of delivery here):

1 - From Elvis In Memphis (1969)
2 - That´s The Way It Is (1970) - Original Soundtrack
3 - Elvis Gold Records, vol.2 (1959)
4 - Elvis, NBC TV Special (1968) - Original Soundtrack
5 - Elvis Presley (Nº1) (1956)
6 - His Hand in Mine (1960)
7 - King Creole (1958) - Original Soundtrack
8 - Elvis Golden Records, vol.1 (1958)
9 - Elvis Country (1971)
10 - Elvis (Nº2) (1956)
11 - Blue Hawaii (1961) - Original Soundtrack
12 - For LP Fans Only (1959)
13 - Elvis Golden Records, vol.3 (1964)
14 - Elvis Is Back! (1960)
15 - Elvis In Person (1969) - en directo
16 - Loving You (1957) - Original Soundtrack
17 - Elvis Gold Records, vol.4 (1968)
18 - Aloha from Hawaii Via Satellite (1973) - en directo
19 - From Elvis Presley Boulevard, Memphis, Tennessee (1976)
20 - Jailhouse Rock / Love Me Tender (1997)- Original Soundtrack

The value of each weekly delivery of 4.95 euros + 1.10 euros for the newspaper.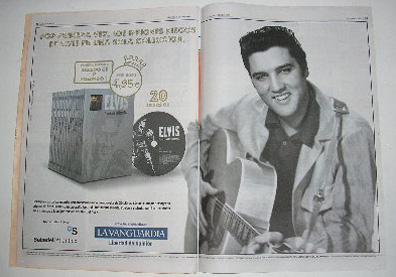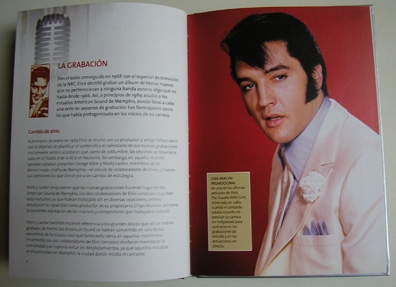 (Advertisement and detail book)
For those not wishing to acquire the collection every week or not living in Spain will be able to book and get the complete collection by calling 902-481-482 or by www.lavanguardia.es. The reservation period will end on February 15, 2009 and its value is 194 euros + shipping.