This book is an updated English edition of the 1995 originally German book. It was fifty years ago this year that Elvis set foot on German soil. Reason enough to release this book to document this period.
Design
The hardcover A5 sized book by Heinrich Burk and Hans-Ulrich Elter has an easy to read design; a big font-size and a lot of black and white images illustrating the various stories in the book. The quality of the paper isn't bad, but the pictures don't come out as well as they could have been on other paper, that's a pity.
The book is divided in various chapters and illustrated with memories from fans and people who had a brief encounter with our man. It is clearly written by various authors and written from their personal perspective. The book is available in German and English.
Content
The book is party an overview of Elvis two year stay in Germany and a collector of memories of people who met with Elvis during those two years.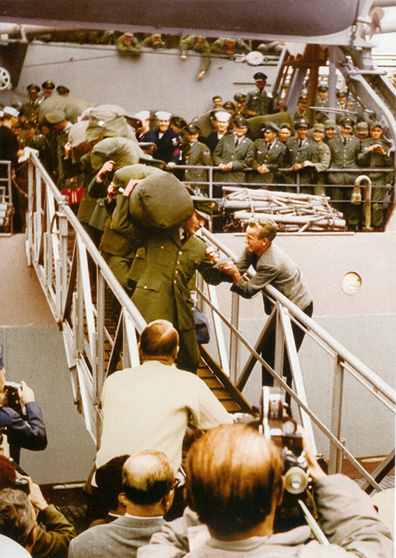 Many of the stories in the book are sweetened through the years, but wouldn't we all do that if we had a personal story of meeting with Elvis? When you read the stories like this they illustrate the almost two year stay of Elvis vividly. The stories are different from the stories we know from the US as Elvis was a soldier, not primarily the rock star making this different read.
The first story is on Helge Rothenberg who jumped the gangway Elvis, still caring his duffel bag, walked down from the ship. He scored his signature and fifteen minutes of fame when the picture of him and Elvis went across the globe. The book is filled with these personal stories.
Let's not forget that his two-year army stint was a very important period in his life. He put his career on hold when he was more famous than any other artist, went abroad, just lost his mother, met the mother of his daughter. Part of the two years absence from the spotlight has been illustrated in text and pictures with this book.
The book holds many pictures we know, but also a few personal pictures I hadn't seen before. Unfortunately the book is black and white only and some pictures appear to have been cut out with a pair of scissors.
Conclusion
A very enjoyable book, especially for us European fans as it tells stories from this side of the ocean.