The Wolfcall import label keeps spitting out new volumes in the originally BMG series and later Madison "A Legendary Performer" series. Not counting the "Legendary Performer" talking only album which was released by yet another label we reached volumes 14 and 15.
Design
No points here; a simple two pages copy of the original BMG design which was updated by the designers from the Madison label. On volume 15 Elvis looks very sad; a sign of things to come?
Content
Regardless of your opinion on the people behind this label trying to earn a quick buck rehashing material taken from previously available releases (bootlegging is evil ?) I try to judge these releases on their content and listening pleasure.
What I find attractive with releases like this is the variety of material and use of alternate versions which make these releases sound differently from the standard BMG compilation. Yes we can probably create these compilations ourselves but I'm afraid I would stick to the same set of tracks I like best. When somebody else makes the compilation you will always find some surprised; either for good or bad.
The (so called) producers of this series have the tendency to add a lot of laid-back country and middle of the road matererial with the occasional movie or rock and roll tunes inserted. This makes the compilations very listenable.
From a collector's point of view I'm not 100% sure what I'm listening to as the information on the takes is very incomplete. How many "extended versions" and spliced versions are available and who extended or spliced them? If they are vague about these versions, how can I rely on the take or live dates given for the other songs. But putting that aside and playing these volumes as background music I must say I enjoyed these two volumes as it does contain some great music from our man.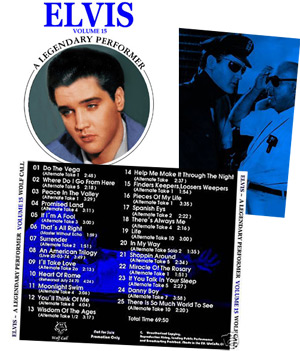 As for the compilations themselves, the opening tracks for both volumes are strange choices; "I Can Help" and "Do The Vega" don't really get a party going but after those two strange selections the selection is pretty solid and I enjoyed a few selections I hadn't played in a while like "A little Bit Of Green", "Never Ending", "Where Do I Go From here", "Moonlight Swim", "Finders keepers, Losers Weepers" to mention a few. The Spankox remix was probably taken from YouTube as it is the video version.
Conclusion
These compilations offer nothing new, so there is no reason to get them if you're not too lazy to create your own compilation or don't own an iPod with 100 random Elvis tracks in shuffle mode.
Tracklisting
Tracklisting A Legendary Performer 14:
I Can Help (Undubbed Version) - Fool (Extended Version) - Just Call Me Lonesome (Take 4) - (Such An) Easy Question (Extended Version) - A Little Bit Of Green (Extended Version) - Susan When She Tried (Spliced Take) - Such A Night (Extended Version) - T-R-O-U-B-L-E (Take 1) - The Fool (Take 1) - A World Of Our Own (Extended Version) - Crying In The Chapel (Spliced Take) - His Latest Flame (Take 14) - For The Millionth And The Last Time (Take 5) - Never Ending (Take 1) - You'll Never Walk Alone (Take 2) - Where Do I Go From Here (Extended Version) - Shake That Tambourine (Spliced Take) - How The Web Was Woven (Take 1) - Fame And Fortune (Extended Take) - I'll Take You Home Again Kathleen (Extended Version) - Baby Let's Play House (Spankox Re: Version)
Tracklisting A Legendary Performer 15:
Do The Vega (Take 1) - Where Do I Go From Here (Take 5) - Peace in The Valley (Take 1) - Promised land (Take 4) - I'm A Fool (Take 3) - That's All Right (Master Without Echo) - Surrender (Take 2) - An American Trilogy (Live 20.03.1974) - I'll Take Love (Take 2a) - Heart Of Rome (Rehearsal 24.07.1970) - Moonlight Swim (Take 4) - You'll Think Of Me (Take 8) - Wisdom Of The Ages (Take 1, 2) - Help Me Make It Through The Night (Take ?) - Finders keepers, Losers Weepers (Take 1) - Pieces Of My Life (Take 1) - Spanish Eyes (Take 2) - There's Always Me (Take 4) - Life (Take 10) - In My Way (Take Solo 2) - Shopping Around (Take 5) - Miracle Of The Rosary (Take 1) - If You Talk In Your Sleep (Take 5) - Danny Boy (Take 7) - There Is So Much In The World To See (Take 10)