Asian Releases
October 18, 2008

| Music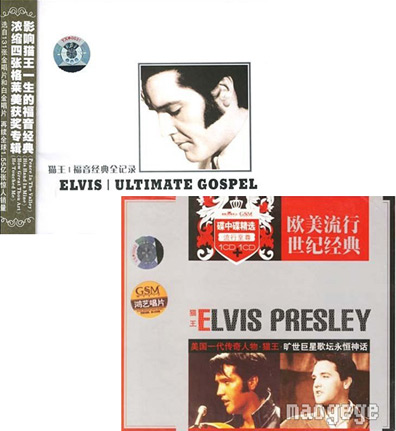 On eBay we found these two new asian releases. One is a straight copy of the "Ultimate Gospel" compilation, the other features two compilations on two discs in a slipcase.
Source:
Ebay
The 50 Greatest Love Songs........Elvis Great Country Songs with alternate takes .....Elvis Ultimate Gospel ......Ultimate Love Song Collection. These and other artists like John Denver are available in certain stores in Australia.....All have RCA BMG on the discs and outer casings along with Chinese or Japanese writing.....I have the originals and these cds are exactly the same. . Ultimate Gospel is the same , I purchased this yesterday......All cds sell for 10 dollars....and are digitally remastered ..These cds would have to be from RCA BMG in China or Japan.......Correct me if I am wrong......
Does anyone know when the new Japanese paper sleeve collection will be released & where they can be purchased.